J.Crew apologizes after fans take offense to a black model's unkempt hair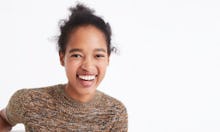 The J.Crew brand aesthetic right now is a bit more laid back than you might guess. Scroll through its website and social media and you'll see models with hair that can be described as "tousled" or "unkept" or even, frankly, "bedhead." Flyaway hairs frame their face, making them look like women who would tell you, "I put my hair up like this this morning, and didn't think about it again."
There is an allure to this look, for sure. But after customers saw a particular picture of a black J.Crew model with this kind of undone hair, some took offense.
It all started with a tweet, as so many controversies involving fashion do at this point. This time it was from the makeup artist Dae Louise, who posted a picture of a black woman (which has since been removed from J.Crew's website) with that easy, breezy hair, modeling a Madewell dress.
"J.Crew..." she wrote. "Girl... y'all wrong." Hundreds commented, many agreeing that the look wasn't so much "easy, breezy," but more disrespectful to this woman's hair and identity.
Some did defend J.Crew though, noting that this is kind of the brand's "look" right now, with white models with similar flyaway hair on its site too.
The model in that picture — Marihenny Pasible — weighed in too, commenting on an Instagram post discussing her appearance.
"This attention is flattering, but the concept of the brand specifically is to show that clothes can be comfortable, wearable and naturally beautiful," she wrote. "So the natural hair and makeup fits right in. Also these days it is all about women embracing their natural looks so here it is!"
But even still, with the model's defense, people were not satisfied with this model's look being passed off as "controlled messy." It looked like the hairdresser didn't know how to transfer this "easy, breezy" look onto a black model.
Conflicting opinions aside, J.Crew responded to the controversy the day after Louise's initial tweet, writing on Twitter:
J.Crew strives to represent every race, gender and background. We sincerely apologize for the styling of this model and the offense that was caused. We assure you that we are taking steps to address it, and to prevent this from happening again.
Mic has reached out to J.Crew, and will update this story when we hear back.