Trixie and Katya take down 2017's most controversial figures — and defend a few, too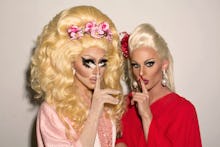 Every season of the reality competition show RuPaul's Drag Race features a brief segment in which the remaining contestants "read" each other — a slang term describing a scathing, good-natured roasting.
For a few moments, each competitor dons a pair of gaudy glasses, calling out the behavior of their fellow queens that's been getting under their skin in the competition thus far. This skill, however, is essential for all drag queens, regardless of whether they've been on Drag Race.
"Because reading is what?" RuPaul asks the contestants.
"Fundamental," they respond.
This brings us to Trixie Mattel and Katya Zamolodchikova, two Drag Race alums who now have their own show on Viceland, The Trixie & Katya Show.
We had them in the Mic office to chat about what it was like to transition from their YouTube show to a full-fledged television program — and, of course, Trixie's upcoming appearance on RuPaul's Drag Race All Stars 3.
Given the pair's long history with Drag Race, we decided to play a little game in which we showed them some of 2017's most problematic figures to see whether their reading skills were still up to snuff.
The list included figures spanning the worlds of entertainment and politics, but Trixie and Katya had choice comments for them all. From Harvey Weinstein, who has been accused by multiple women of sexual harassment, to Betsy DeVos, the current secretary of education who made the unfortunate decision to dress up as Ms. Frizzle from The Magic School Bus for Halloween, they didn't hold back.
It may surprise you, however, to know that Trixie and Katya come to the rescue for a few controversial figures, too — like Azealia Banks, who has taken heat in the past for using homophobic language. They also chimed in on the conversation around Willam Belli, a fellow Drag Race alum who recently came under fire for making transphobic comments in an episode of her web show, Suck Less.
You can watch the video of our full interview with Trixie and Katya below.