Violet Chachki makes herstory as the first drag queen to front a lingerie campaign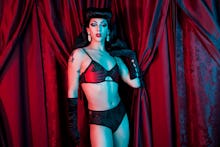 Lingerie campaigns are pretty predictable. A beautiful girl poses in lingerie. Sometimes she's in something that can only be described as a "boudoir" and other times she stands in front of a nondescript backdrop. For the lingerie brand Playful Promises, which has bras up to a G cup, that's been the routine for its campaigns too.
That is, before Violet Chachki stepped in. For Playful Promises' latest campaign — cheekily named "Never the Girl Next Door" — the brand is making history by casting Chachki, a drag queen, as the "anti-girl next door" posing in the brand's Bettie Page Lingerie line looking like, well, the legendary pin-up Bettie Page.
Never before has a drag queen been front and center in a lingerie campaign.
"Bettie Page is a huge inspiration for my drag character," Violet Chachki, who won the seventh season of RuPaul's Drag Race, said in an interview. "If you look at early pictures of me in drag, it was legitimately me crossdressing as Bettie Page."
With things like corsets, bustiers, stockings, exaggerated eyeliner and '40s- and '50s-inspired hair all part of Chachki's regular drag persona already, the campaign is a perfect fit. It also comes at a time, Chachki understands, that the lines of gender in fashion are becoming blurred.
"It's the right time for all of this stuff to be happening," Chachki said. "We're being more conscious of the language we use, and there's this whole movement on the internet about gender fluidity and gender norms being deconstructed. We're letting the idea of gender be poked fun at a bit and be seen as the construct as it is."
In posing in this campaign, she hopes she's continuing this conversation in art and fashion in regards to gender.
"I think the industry is taking the gender conversation and all of these identities seriously now," Chachki said. "It may be a bit of a trend, and it'll be interesting to see if it sticks around and how seriously its taken in the next few years. But for people who identify as gender fluid, campaigns like this can be important."
But more than any kind of political fashion statement Chachki may be making by appearing in this campaign, she does want to make sure that a spirit of creativity and freedom emanates from this campaign.
"This lingerie is very playful. Especially because of Bettie Page, it's very marketable to drag queens and people who embrace glamour and creation," Chachki said. "There are pieces that aren't necessarily practical. Novelty cone bras and bullet bras that could take someone's eye out. Those specific pieces are marketable to performers, and there is a market for that. Especially now with social media, people get done up to take photos of themselves on Instagram. They'll experiment for their own pleasure in their bedrooms, and their own followers. That's what this is really about. It's freedom and self-expression."