Meet Marge, the 81-year-old turkey expert that helps thousands cook Thanksgiving dinner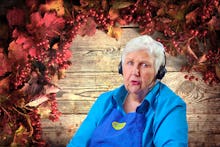 Marge was late to our call. She was stuck on the phone with a customer who plans to cook his Thanksgiving turkey in a smoker this year, debating the proper temperature for smoking it. Together, the inquirer and the Butterball Turkey Talk-Line expert settled on 250 degrees Fahrenheit.
This is the type of conundrum Marge Klindera helps home cooks solve every November through Christmas. The 81-year-old has been working Butterball's hotline for 35 years (she's based in an office 40 minutes outside Chicago), and is the longest-standing member of the team.
Speaking with Marge feels like being transported back to a Leave It to Beaver-type era. Over the phone, she comes across as soft-spoken, patient and warm, and when I asked (kind of moronically) if she knew a lot about turkey, she responded, humbly, "I know a goodly amount." She's the kind of person you'd want to coach you through a Thanksgiving crisis, which is good for the thousands upon thousands of people who call the Butterball hotline from Nov. 1 through the end of the holiday season.
Marge took on turkey work in the early '80s, when she was teaching home economics to high schoolers and could cover shifts from 4 p.m. to 8 p.m. "It's a wonderful feeling — people are so appreciative that someone is there to help them," Marge said. "Many people are very intimidated by cooking a turkey, and, actually, the turkey is probably the easiest part of the meal. They just need a little reassurance that they're doing the right thing."
In her Illinois suburb, Marge has some clout. "I'm known as the Butterball lady where I live," she said, explaining that people call her for cooking advice year-round. "It kind of follows you wherever you go."
When she wears her jacket with Butterball's logo, people will often recognize her immediately. At the grocery store recently, a cashier noticed the emblem and started asking her own Thanksgiving questions. In 2008, Marge appeared on Late Night With Conan O'Brien. Hugh Jackman was also a guest that night.
While many Americans look forward to a being off from work on Thanksgiving, Marge has spent every holiday since she started at Butterball working the hotline. (Thanksgiving Day is the service's busiest time — Marge said one year the center received upward of 10,000 calls.) Her tradition of being out of the house forced her three children and her husband to learn how to prep a turkey without Marge's help before she returned for the festive meal. Now, as adults with families of their own, the kids are grateful they can make a bird on their own, she said.
Butterball customers from all over the country ring the hotline every year with the intent to talk turkey trouble. But oftentimes the calls evolve into something more: Marge recalled one 70-something-year-old who called in because she was cooking her very first turkey. "It was her first year — her mother always cooked and it was her first Thanksgiving without her, so she needed help," Marge said.
Another recent caller needed a solution for dealing with a heavy bird. "She was struggling because she had always cooked a large turkey, but she was getting older and it was hard for her to lift the bird to the oven," Marge said. "We decided that what she should do would be to cook two smaller birds. I gave her some advice to have her invite someone to carve the second one, and she was so excited." The caller said she has two sons, and she was going to have them compete to see whose turkey would come out best.
The Butterball hotline might be for cooking questions, but Marge's all-knowing expertise goes way beyond turkey prep.