7 cities where you can find a black Santa this Christmas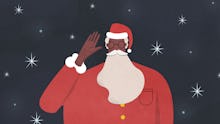 Santa is normally portrayed in popular culture as an older pudgy white man with a white beard. But for decades, black families have searched for a black Santa to capture holiday memories. This tradition is long standing. As early as the 1940s, department stores in Harlem, New York City, and Chicago featured a black Santa Claus. In some cities, these jolly old men have become local celebrities because of their recurring role as St. Nick.
But black Santas aren't always expected or accepted. For instance, the Mall of America in Minneapolis chose its first black Santa, Larry Jefferson, for the holiday season to promote diversity in 2016. Some of the patrons were happy to welcome him, while there were also racist online commentators who complained that Santa should be white, attempting to ruin his moment.
Regardless of what the haters say, when the Christmas holiday rolls around again, black Santas still remain booked, busy and sometimes hard to find. So here is the ultimate guide on where to find them around the country this Christmas.
New Orleans
Fred Parker, aka the Seventh Ward Santa, has taken photos with generations of Black New Orleanians. In 2016, many took to Twitter to celebrate him by sharing their throwback photos with "the original chocolate Santa." For 47 years, he has brought smiles to families at the Dennis Photofinish located at 1753 N Tonti St in New Orleans.
Find more information about the next holiday shoot on Dennis Photofinish's Facebook page.
The Macy's at Herald Square in New York City has a black Santa available by request. He is not advertised and seems to be known only by word of mouth. Writer Sa'iyda Shabazz detailed her experience finding him, in the New York Times, in 2016. After arriving at Santaland on the eighth floor of the department store she asked an elf to see the secret black Santa.
"Can we please see the black Santa?" I whispered. He nodded and told us to stand off to the side. A few minutes later we were ushered into a little alcove. There sat Santa, a man the color of Hershey's milk chocolate with a gray beard and a soothing voice.
In 2017, the Santas at Macy's arrive on Nov. 24 and will be posted until Christmas Eve, according to the Macy's website. Tip: This year you must set up an appointment to see Santa.
Atlanta
In Atlanta, Dee Sinclair, also known as the "real black Santa" is a popular face who is available for booking at private events. His holiday schedule is already filling up.
Black Santas are also taking over malls in the city, according to a local community blog 365 Atlanta Family.
At South DeKalb Mall, Santa arrived on Saturday and will be visiting until Christmas Eve. Check the site for his schedule here.
Greenbriar Mall boasts a "naturally bearded African-American Santa" between Nov. 18 and Christmas Eve. More info here.
And the Mall West End has its own special "Kente Santa Claus," who arrives on Friday at 11:30 a.m. Here is more information on when he'll be taking photos.
The Northwest African-American Museum is holding a black Santa photo day on the first and second weekend of December.
"NAAM is the only museum of its kind in the region," wrote Eve Sanford, public programs director, in an email to Mic. "We believe that Santa is about representing love and giving and it is important that when we are spreading those messages we do so in a manner that reflects the community we serve," she continued.
Washington, D.C.
Iverson Mall, located in the Washington, D.C., suburb of Temple Hills, Maryland, hosts a Black Santa annually. Kenny Green told BBC in December that he has been dressing up as the holiday icon since 2011. He said that black families come from as far as Delaware to take pictures with him for their holiday memories.
Santa's schedule will be posted to Iverson Mall's Facebook page in the next few days, according to its management office.
In Los Angeles, Langston Patterson as Santa has been a cultural staple for black families at the Baldwin Hills Crenshaw Plaza for the past 13 years. "Love, giving, sharing, forgiving, exchanging gifts — that's what it means to me," Patterson said in a Los Angeles Sentinel profile on his legacy in 2016.
Santa will make an appearance at the mall's annual winter wonderland event on Dec. 9, from 12 p.m. to 4 p.m.
Detroit
For the third year in a row, Detroit's Eastern Market will host a Black Santa Photo Experience made possible by BLAC Detroit and Metro Parent.
The event is free for attendees and will be held Dec. 9 from 10 a.m. to 2 p.m. and Dec. 10 from 12 p.m. to 3 p.m. Attendees must bring their own cameras to take photos. Registration information is here.