Top Republicans are cutting ties with Roy Moore, but GOP Senate candidates remain silent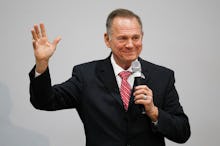 Senate Republicans have sent Roy Moore a clear message: Drop out of your Senate race or run the risk of being the first member of the Senate to be expelled since the Civil War.
But Republicans running for the Senate aren't sending the same message. In at least four states where an incumbent Senate Democrat is vulnerable in 2018, four GOP candidates have resorted to staying silent about Moore — not even saying the Alabama Senate candidate should drop out if the allegations of sexual misconduct against him are true.
The Republican Senate candidates staying quiet so far are: Josh Mandel in Ohio; Todd Rokita in Indiana; Marsha Blackburn in Tennessee; and Martha McSally in Arizona — who has not declared her candidacy for Senate but appears likely to do so. Luke Messer in Indiana and Lou Barletta in Pennsylvania have said Moore should drop out — only if the allegations against him are true.
Their silence is in stark contrast to Senate Majority Leader Mitch McConnell (R-Ky.) and a host of other GOP senators who have said, beginning last week, they believe the five women who have accused Moore of sexual assault or harassment.
Ohio Treasurer Josh Mandel has been quiet about allegations against Moore despite repeated inquiries by local media. He is running in the 2018 Republican primary to take on Sen. Sherrod Brown (D-Ohio) next fall.
Mandel faced criticism earlier this year for siding with white nationalists over the Anti-Defamation League. Now, the heat is growing as he refuses to distance himself from Moore, a candidate supported by the Steve Bannon wing of the GOP.
Mandel has declined to even comment on whether Moore should step aside, though Ohio's Republican governor and senator have both said Moore should drop out of his Alabama Senate race. Meanwhile, one of Mandel's faith advisers has cast doubt on the allegations against Moore on social media.
In Indiana, the GOP Senate candidates have also kept their silence about Moore.
Rep. Todd Rokita (R-Ind.) has an affinity for Moore's campaign. After Moore won the Alabama GOP Senate primary, Rokita's campaign put out a memo saying the congressman's Indiana Senate campaign aimed to mimic the movement Moore built in Alabama —but Rokita's campaign has tried to distance itself from that memo in recent days.
Rokita has not commented on whether Moore should drop out. Rep. Luke Messer (R-Ind.), the other GOP Senate candidate in Indiana, said Moore should drop out if the allegations are true. That line was initially used by Senate Republicans last week, but has largely been abandoned by the GOP, including Senate leaders like McConnell.
Indiana GOP Sen. Todd Young suggested Monday that Moore be expelled from the Senate if he is elected.
Rep. Lou Barletta (R-Pa.) put out a statement on Monday that called for Moore to step down "if [the allegations] are found to be true."
Barletta, running to oppose Sen. Bob Casey (D-Pa.) in 2018, is not joined by his colleague Sen. Pat Toomey (R-Pa.) who was one of the first Republicans to call for Moore to drop out over the weekend.
With influential conservatives like Bannon siding with Moore, candidates looking to win Republican Senate primaries are faced with walking a fine line between alienating general election voters, particularly women, and angering a GOP-base that believes Moore.
In Tennessee, Rep. Marsha Blackburn (R-Tenn.), the leading Republican candidate to replace retiring GOP Sen. Bob Corker, has not weighed in on Moore and the allegations against him.
Rep. Martha McSally (R-Ariz.), who has told her colleagues she plans to run to replace retiring Arizona Republican Sen. Jeff Flake, has also stayed quiet about whether Moore should drop out of the race.
This article has been updated.