Republicans aim to gut Obamacare and pass tax cuts in one bill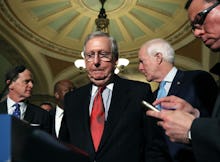 Welcome to Mic's daily read on Donald Trump's America. Want to receive this as a daily email in your inbox? Subscribe here.
Wednesday's dispatch: GOP aims to pass Obamacare repeal and tax cuts in one bill
Repeal of the Affordable Care Act's individual mandate will be included in the Senate Republican tax plan. With a month of legislating left this year, Republicans have decided to cram all their largest 2017 goals into the next few weeks.
By repealing the individual mandate, the GOP would save $300 billion to help pay for their tax plan. It would also lead to an additional 13 million people without health insurance by 2027. That many people dropping out of the health insurance market would ultimately lead to the collapse of the ACA and a forced reform of the program.
In other words, Republicans want to kill off the ACA to pay for tax cuts to corporations. The Congressional Budget Office also previously estimated about $25 billion will be slashed from Medicare. And the full consequences of the plan will not be known by the time the House puts it to a vote on Thursday, as the CBO will not have enough time to score the bill.
Critics say the tax plan would send the vast majority of tax cuts to corporations and the wealthiest Americans. Though Republicans have said that would increase investment in the economy, a number of CEOs refused to commit to doing just that on Tuesday.
Between the Senate and House plans — which must be compromised and voted on again after passing each chamber — the tax proposal would: not allow teachers to deduct school supplies they purchase themselves; not allow college students to deduct tuition benefits; not allow people to deduct student loan interest; end a deduction that benefits seniors with high medical expenses; end deduction of state income tax on federal taxable income. That's just a sampling.
Overall, most people would see a tax cut under the GOP plan. But it is likely to be relatively small for low- and middle-income Americans. And about a fifth of them would see a tax hike over the next 10 years. In fact, the GOP will have to waive a 22-year-old rule they created in order to allow the tax hike.
This health care and tax bundle is already raising concerns of Republican senators. Sen. Susan Collins (R-Maine) has proposed a plan very different from the one her fellow Republican senators are considering. Sen. Lisa Murkowski (R-Alaska) is skeptical of including individual mandate repeal in the plan. Both Collins and Murkowski were key votes against Senate bills to repeal the ACA.
Including the health care mandate repeal pleases Sen. Rand Paul (R-Ky.) and other Senate conservatives who may have claimed the bill did not go far enough without it. Senate GOP leaders claim senators like John McCain (R-Ariz.) and Dean Heller (R-Nev.), who have opposed past GOP health care plans, are on board.
Meanwhile, Democrats and progressives are sounding "red alert" messages about this effort to mortally wound the ACA while cutting taxes for the wealthy and corporations. "Make your voices heard again," tweeted Sen. Al Franken (D-Minn.). This is a "back door to ACA repeal," tweeted Andy Slavitt, a former Obama-era health care czar who has organized against GOP repeal of the ACA.
Republicans aim to pass both the House and Senate bills, and a compromise version for Trump to sign, within a month.
Wednesday in Trump's America:
Roy Moore: The Alabama Republican Senate candidate, who has been accused of sexual misconduct by five women, is even losing support from conservative firebrand Sean Hannity of Fox News. Now totally isolated from Republican senators, the Republican National Committee has cut ties to Moore. Senate Majority Leader Mitch McConnell (R-Ky.) has made it clear he will push to expel Moore from the Senate if he wins election. Three Alabama newspapers have written editorials saying Moore is unfit for public office.
Outside Washington, however, GOP Senate candidates facing incumbent Democrats are staying quiet about Moore. And national Democrats are consciously helping Doug Jones, Moore's Democratic opponent, by keeping a low profile.
Jeff Sessions: In testimony on Tuesday, Attorney General Jeff Sessions said he is investigating 27 leaks of classified information to the media. He also said there is not enough evidence to warrant a special counsel into the Uranium One deal. He also testified that he now remembers meeting with George Papadopoulos, a Trump campaign adviser who pleaded guilty to lying to the FBI earlier this year.
Sexual misconduct allegations: Several publishers — including Mic — are parting ways with George Takei on social media following allegations of sexual misconduct and the surfacing of lewd comments he made in an interview with Howard Stern.
The House will adopt anti-harassment and anti-discrimination training. That came after two female lawmakers on Tuesday spoke of harassment by sitting members of Congress.
DACA: Thirteen former top national security officials wrote Congress asking for passage of the Dream Act by Dec. 8.
Flooding: Do you live on the coasts or an area that floods? Then read this: The House voted to make the National Flood Insurance Program cover less damage while making it easier for the private sector to compete. There's no easy solution to saving the nearly bankrupt program, as I wrote about following major hurricanes earlier this year.
Trump dossier: BuzzFeed was sued for libel by a Russian internet entrepreneur after it published the unsubstantiated Trump-Russia dossier. While much of the document has been verified, its most lewd claims about Trump are unconfirmed. Now, federal law enforcement are fighting to keep secret how they used the dossier despite BuzzFeed seeking that information to justify its release.
Mass shooting: Five people were killed in Northern California after a gunman opened fire at a school. Click for a grim timeline of congressional inaction on gun violence.
Still no verdict in New Jersey: Sen. Bob Menendez (D-N.J.) could be headed for a mistrial, saving the Democrats from having to remove a convicted peer and face outgoing New Jersey GOP Gov. Chris Christie from appointing a Republican to fill the seat.
Under the radar:
EPA: An official who started at the Environmental Protection Agency this week will be key in the rollback of Obama-era clean air regulations.
Education: Betsy DeVos is facing more pressure to forgive the student loan debt of 87,000 students defrauded by their universities.
Public lands: Environmental groups filed official opposition this week to proposed fracking on 388,000 acres in Utah.
Consumer protection: The Huffington Post reported Sen. Mark Warner (D-Va.), whose profile has risen during the Russia investigation, is working "to help payday lenders sidestep basic consumer protection laws."
Today's MicBite:
Sessions faced questions on Tuesday about why he has such little recollection of events during the 2016 campaign related to Russia. Tap or click the video below to watch.