Teachers, bystanders saved lives during California shooting with quick response at elementary school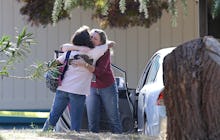 On Tuesday, a man went on a shooting rampage in at least seven places around the rural Northern California community of Rancho Tehama, killing four people and wounding at least 10 others before police shot and killed him.
At one point, the man tried to enter a local elementary school — but the quick response of teachers and bystanders who rushed to help likely saved countless lives, experts say, and the gunman left the school deterred.
As of Wednesday morning, authorities had not yet released the identity of the suspected shooter, CNN reported, but Tehama County Assistant Sheriff Phil Johnston said the suspect was known to local law enforcement and had been arrested in January in an incident involving a neighbor. That neighbor, who had a restraining order against the suspected shooter, was one of the victims of Tuesday's shooting.
Sheridan Orr told the Los Angeles Times on Tuesday night that the alleged gunman was her brother, 44-year-old Kevin Janson Neal, who had a history of sudden episodes of anger.
The gunman's path through the community of Rancho Tehama, just south of Redding and about 120 miles northwest of downtown Sacramento, seemed arbitrary, authorities said. According to CNN, Johnston said the gunman "armed himself, I think with the motive of getting even with his neighbors and when it went that far (that someone was killed) he just went on a rampage."
He allegedly shot people "at random" from his vehicle as he made his way from his home to Rancho Tehama Elementary, around 2 miles away, firing at other cars and homes on his way.
One of the people wounded was a mother who was driving her children to school when the gunman opened fire on her car. A child in the vehicle was also wounded, CNN reported.
At one point on his way toward the school, the gunman fired from his vehicle at Sara Gonzalez, who had just dropped her daughter off at the school. She told CNN she turned her car around and went back to the school to warn them, a potentially life-saving measure.
"I went to my daughter's school and started honking, making people know what was going on," Gonzalez said.
CNN reported that school staff acted quickly in response to the sounds of gunfire, putting the school on lockdown, bringing students inside classrooms and instructing them to lie down on the floor beneath tables and desks. A 10-year-old student told CNN that her teacher blocked the classroom door with a computer.
"All of the staff were absolutely heroic in making sure that students were getting into the classrooms as shots were being fired," Richard Fitzpatrick, superintendent of the Corning Union Elementary School District, said at a press conference Tuesday, according to the Los Angeles Times. "This was a question of minutes."
It was the quick response of teachers and staff that likely kept the situation from becoming much more deadly. "There's no question that the quick action within that school saved lives," Katherine Schweit, a violence prevention consultant and a former FBI official who specializes in active shooter situations, said by phone on Wednesday.
"Every second, you can send many rounds out of a gun. Every second. In six minutes, [one] can shoot hundreds of rounds. Every second counts when you are trying to save lives."
On Tuesday, as students lied on the floors of their classrooms, the gunman, who had crashed a pickup truck into the locked gates of the school and exited the truck with a semi-automatic weapon, fired into the walls and windows of the school building, Fitzpatrick said, according to the Los Angeles Times.
One student is in stable condition after being shot while under a desk. No students were killed. In addition to the rapid response from teachers and staff, at least one bystander stepped in to help as well.
Jessie Sanders told a local CNN affiliate that he ran to the school when he heard the sound of gunfire and tried to draw the gunman away from the building.
"When I get there, the dude was shooting through the windows," Sanders said. "And I said, 'Hey why don't you shoot this way instead.'" According to Schweit, this kind of reaction, while not especially common in active shooter situations, reflects the fact that in emergencies, some individuals make "brave and selfless decisions."
"That's what that gentlemen did," Schweit said. According to CNN, the gunman stayed at the school for six minutes before leaving, apparently "frustrated" that he couldn't enter the building.
Schweit, who has spent her career dealing with active shooter situations, said roughly a quarter of active shooter scenarios occur in schools, including in universities. The decisions made by people on the ground, ordinary people like teachers, parents and bystanders, are what help to save lives.
"What we do, and what we do with others around us, can keep others safe," Schweit said. "Every person has to critically think to themselves: 'I want to live, I want my friends and neighbors to lives, what can I do to make that happen."