Trump's war of words with Kim Jong Un has culminated in a "death sentence" over a mean tweet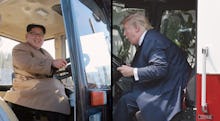 He called their leader short and fat on social media. Now they're calling for his death.
On Saturday night, towards the end of his trip through Asia, United States President Donald Trump took the geopolitical feud between his nation and North Korea to his favorite battleground: Twitter.
"Why would [North Korean leader] Kim Jong Un insult me by calling me 'old,' when I would NEVER call him 'short and fat'?" Trump tweeted, therein calling Kim short and fat. "Oh well, I try so hard to be his friend — and maybe someday that will happen!"
But if the latest editorial in Rodong Sinmun, a North Korean newspaper run by Kim's regime, is any indication, that day may never come. According to the Guardian, RS called for Trump to be sentenced to death over his mean tweets about Kim.
"The worst crime, for which he can never be pardoned, is that he dared [to] malignantly hurt the dignity of the supreme leadership," the editorial said, according to Guardian. "He should know that he is just a hideous criminal sentenced to death by the Korean people."
The ruling regime-run paper's call for Trump's death is the latest theater in the two leaders' war of words. As his Secretary of State Rex Tillerson pushes for a more peaceful, diplomatic solution to the animosity between the nations, Trump has undermined him at every turn with more bellicose rhetoric, tweeting in October that "only one thing will work" when it comes to subduing the potential threat of a nuclear strike from North Korea.
The president's words one month prior to that tweet may lend clarity to what that "one thing" could be: overwhelming military force.
"The United States has great strength and patience, but if it is forced to defend itself or its allies, we will have no choice but to totally destroy North Korea," Trump said before the United Nations.
The president's threats followed a summer of increasingly aggressive nuclear tests from North Korea. Amid those tests, which had the people of the United States territory Guam preparing for a nuclear attack, the president came up with a nickname for the nation's defiant leader: Rocket Man.