Sean Hannity is Fox News' chief conspiracy theorist — and Shepard Smith its voice of reason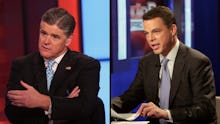 On Tuesday night, Fox News viewers were offered two radically different viewpoints on the ongoing Republican probe into Hillary Clinton and the Uranium One deal depending on which anchor they watched: Sean Hannity or Shepard Smith.
After Attorney General Jeff Sessions said during a congressional hearing Tuesday that a "factual basis that meets the standards of the appointment of a special counsel" was needed to launch a special investigation into Clinton, Hannity and Smith were diametrically opposed in their responses.
On Shep Smith Reporting, Smith offered a takedown of the Republicans' Uranium One theory, which posits Clinton orchestrated a uranium deal with the Russians during her time as secretary of state in exchange for donations to the Clinton Foundation.
The theory — which has already been widely debunked outside of Fox News — does not stand up to scrutiny, Smith explained Tuesday, as Clinton wasn't involved in authorizing the deal. Rather, the State Department was part of a nine-member committee that merely evaluated the agreement, which was later approved by former president Barack Obama. Clinton reportedly played no role in the committee's assessment.
Hannity, meanwhile, used Sessions' comments to launch a 17-minute diatribe passionately explaining the Republicans' numerous — and largely debunked — accusations against Clinton as facts, ranging from the Uranium One scandal and Clinton's use of a private email server to the accusation the Democratic primary election was "rigged" in her favor.
"These are all massive scandals," Hannity claimed Tuesday, referring to the Clintons as a "crime family" and pointing to a digital tree diagram illustrating the alleged scandals. "[The tree graph] shows the entire scale of the Clintons' willingness to do anything and everything to gain power and wealth at all costs. Look at this. Pretty amazing. There's so much to investigate."
The two segments illustrated a sharp divide between the two Fox News anchors, particularly in the age of Donald Trump's presidency. While Hannity has made no secret of being the president's ally — and, reportedly, even one of his "advisers" — Smith has often taken the president to task, debunking his claims even as other Fox News anchors step up to defend him.
The differences in their approaches have been a source of contention between the two anchors. In July, Hannity said this about Smith on his radio show: "I like Shep. But he's so anti-Trump. I mean, he went off on a rant last week."
"Shep Smith disagrees with me. And he does so vehemently. Fine, I have no problem with it," Hannity said later during the radio program, according to CNN, later noting "there are voices on Fox that drive me nuts."
In response to Hannity's comments, Smith offered a statement to Mediate: "Sometimes facts are displeasing. Journalists report them without fear or favor."
Here's how Smith and Hannity have radically differed in their coverage of the Trump administration so far.
Shepard Smith
On a network known for its favorable reporting on the president, Smith hasn't shied away from disagreeing with his colleagues and offering a more critical view.
Tuesday's takedown of the Uranium One scandal was only the most recent case of Smith going against the traditional pro-Trump talking points. In September, Smith hit back against Trump's disapproval of the NFL player protests, saying Trump's framing of the protests as a fireable offense and intolerable show of disrespect to the country was "the red meat of all red meat" for his base, "because they're able to reframe this."
"They're able to say, 'Oh, they're attacking the national anthem, they're attacking the troops, they're attacking the flag' — none of which they're doing. They're not doing any of that," Smith said.
Smith has also taken Trump to task for his frequent depiction of the media as "fake news," including his repeated CNN attacks. In January, Smith defended the network after Trump got into an argument with journalist Jim Acosta during a press conference and decried CNN as "fake news."
"Though we at Fox News cannot confirm CNN's report, it is our observation that its correspondents followed journalistic standards and that neither they nor any other journalists should be subjected to belittling and delegitimizing by the president-elect of the United States," Smith said, as quoted by the Hill.
Smith again criticized the president after a February news conference in which Trump sparred with Acosta and called the press "dishonest people."
"It's crazy what we're watching every day," Smith said after the second news conference. "It's absolutely crazy. He keeps repeating ridiculous throwaway lines that are not true at all and sort of avoiding this issue of Russia as if we're some kind of fools for asking the question. Really? Your opposition was hacked and the Russians were responsible for it, and your people were on the phone with Russia on the same day it was happening, and we're fools for asking the questions? No sir.
"We have a right to know," Smith continued. "And that you call us 'fake news' and put us down like children for asking these questions on behalf of the American people is inconsequential. The people deserve that answer at very least."
The ongoing investigation into Trump's Russian ties has been a significant topic of discussion for Smith. In July, Smith said in a segment that Fox News could confirm the investigation was not a "witch hunt" as Trump claimed: "Current and former U.S. officials say there is absolutely no doubt that Russia interfered in our election, put its thumbs on the scales of democracy and that Vladimir Putin ordered the thumbs and all the meddling."
In the wake of the revelation Donald Trump Jr. and other campaign officials met with a Russian lawyer during the campaign, Smith went off on a rant in a segment with colleague Chris Wallace, asking, "Why is it lie after lie after lie?"
"The deception, Chris, is mind-boggling," Smith said to Wallace. "And there are still people who are out there who believe we're making it up. And one day they're gonna realize we're not and look around and go, 'Where are we, and why are we getting told all these lies?'"
Sean Hannity
While Smith hasn't shied away from denouncing Trump, Hannity has been a key ally of the president — sometimes to a potentially unethical degree.
Hannity, who has a strong personal relationship with Trump and reportedly acts as one of his advisers, was criticized during the 2016 election after appearing in a promotional Trump campaign video. Fox News reportedly was unaware of his involvement, saying Hannity would "not be doing anything along these lines for the remainder of the election," according to the Washington Post.
Unlike Smith, Hannity does not believe himself to be a journalist and therefore subject to ethical standards. And though Smith's reporting has been focused on revealing the truth, even at the expense of the network's traditional pro-Trump talking points, Hannity has stayed true to Republican and pro-Trump viewpoints — even when they've been debunked.
Hannity has frequently peddled false conspiracy theories on his Fox News and radio programs, Media Matters reported, including repeating the claim that Sen. Ted Cruz's father played a role in John F. Kennedy's assassination and perpetuating the "birther" myth about former President Barack Obama. Most notably, Hannity frequently pushed the conspiracy theory that alleged Democratic National Committee staffer Seth Rich's death was connected to the release of DNC emails, causing him to lose several advertisers.
Very often, these lies have been in service of Trump's agenda. Hannity echoed the president's claims that Obama illegally surveilled Trump Tower — among other accusations — and apparently believes in the existence of a "deep state" embedded in the government that's sabotaging the Trump administration, discussing the conspiracy in a segment Trump helped promote on Twitter.
While Smith has often stood by other news outlets, Hannity joined Trump in decrying them as "fake news." In March, Hannity called NBC News a "deep state Obama propaganda television" waging "corporate jihad" against Trump.
Hannity has also frequently defended Trump against the ongoing Russia investigation. An analysis of Hannity's Fox News show by Media Matters found that between May 15 and Sept. 1, Hannity suggested there was no collusion between Trump and Russia in more than half of his opening monologues; called the investigation a "witch hunt" 19 times; and called for the termination of special prosecutor Robert Mueller's investigation seven times. Minutes after CNN reported a federal grand jury had approved the first charges in Mueller's investigation — against former Trump campaign manager Paul Manafort and associate Rick Gates — Hannity tweeted, "When will @HillaryClinton be indicted?"
Throughout Hannity's support of Trump's agenda, he's been rewarded by Fox viewers in the form of increased ratings; meanwhile, Smith's takedowns of Trump in the service of truth have repeatedly drawn the ire of Fox viewers, who often call for his resignation.
Hannity's popularity continues to increase, garnering him a loyal fanbase that has even started boycotts in response to him losing advertisers for defending Roy Moore. According to Nielsen data cited by Variety, Hannity's viewership increased by 47% between Dec. 26, 2016, and March 26. And his popularity hasn't slowed down — in October, Hannity's Fox News program earned the highest ratings in cable news with 3.2 million viewers.