40% of homeless youth are LGBTQ — and this organization wants to help change that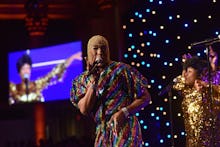 In a world where identity politics reign supreme, it's sometimes easy to forget that the battles for equality aren't being fought entirely in courtrooms and press conferences, that the tools of change aren't relegated to think pieces and rallies. And while we're reminded again and again of how far we've come, it's easy to forget that the most vulnerable among us are still fighting for their lives, for safety, for survival. This is especially true for queer youth, for whom homelessness is still a very dangerous reality.
Thankfully, organizations like the Hetrick-Martin Institute exist to help meet the needs of homeless queer youth. Founded in 1979 by Emery Hetrick and Damien Martin, HMI is one of the oldest organizations dedicated to enriching the lives of LGBTQ youth. First founded as a way to aid and protect homeless queer kids, this mission still guides HMI today.
"Homelessness is one of the critical issues facing LGBTQ youth living at the intersection of poverty and discrimination," Thomas Krever, HMI's CEO, said in an interview. The institute strives to ensure that queer youth have access to resources for stability and opportunities to success. "There should be universal agreement that a teenager should have somewhere safe to sleep at night and have access to a hot meal and an education, but ensuring those things happen requires intentional vigilance throughout the community," Krever adds. "Especially now — when the community is besieged from so many sides — we must protect our youth and the rights and opportunities they should be guaranteed, but are not."
According to a survey conducted by The Palette Fund, True Colors Fund and the Williams Institute, about 40% of youth experiencing homelessness identify as LGBT. One-in-four homeless LGBT teens are kicked out of their homes by their own families. And while queer teen homelessness is a much larger issue than any one organization can solve, HMI is doing their best to provide resources to queer kids who find themselves without shelter.
Thanks to the help of individuals like cabaret legend Sandra Bernhardt and Bravo personality Bevy Smith, both of whom hosted HMI's recent Emery Awards, the word is spreading more than ever that LGBTQ youth homeless is a very real danger. In an interview with Mic, Bernhardt explained that it was shocking to learn "the amount of rejection these kids experience from their own families. Being a mother of a 19-year-old daughter, this is very hard to imagine and incredibly sad."
"Being from Harlem and knowing young people from the ballroom scene means that I didn't need statistics to be startled, I saw firsthand how desperately HMI was and is needed," added Smith in an interview.
With the country's current political climate, HMI and those who support it now know how much it's resources are needed. HMI provides counseling, HIV/AIDS services, programs ranging from arts and culture to job readiness, an on-site food pantry, a youth pride fest and even a pride prom. In addition to helping homeless youth, HMI also provides family counseling services and advocates for policy on local, national and international levels. While making the world a safer place for queer kids to grow up in is an uphill battle, it's one HMI is ready and able to fight.
"We need grassroots organizations that never drop the ball now more than ever," adds Bernhardt. "This is very important work in these contentious times."