It's now possible to eat every Thanksgiving flavor in snack form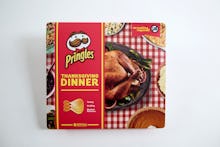 On the heels of Halloween and pumpkin spice season, Thanksgiving invades supermarket shelves like a contagion. Cans of cranberry jellies, boxes of mashed potato and stuffing, plastic-wrapped turkeys and pre-made pies appear to entice the entire month of November. Thanksgiving may be just one day, yet this holy grail of food holidays is hotly anticipated for many months.
A new crop of food products takes major inspiration from the American holiday. From turkey-flavored ice cream to green bean-flavored corn chips, these zany snacks allow consumers to sample Thanksgiving flavors without turning on an oven.
Whether you think the Thanksgiving-flavored foods sound freaky or fun, their existence isn't entirely novel. Humans have been using natural and artificial flavors to enhance food for centuries. Back in the 1870s, German scientists figured out how to replicate the molecular compound of vanilla. Now vanillin, the artificial equivalent of vanilla, is one of the top flavoring agents, Clair Hicks, professor of Food Science at University of Kentucky, said in a phone interview. You can find it in everything from ice cream to baked goods.
"There's been a real increase in number of artificial flavors in the last decade. It's almost exponential," Hicks said. "You can get a flavor for just about anything that you can think of right now. We've seen a trend in the consumer, particularly in the last decade, where we have moved into more intense flavors."
According to Hicks, our preference for different flavors depends on a host of factors, including culture. People in the Philippines "like shrimp flavors" in ice cream, he noted. Hicks said that age often plays a role in taste in the U.S.
"There's people out there who will try most anything," he laughed, when asked about turkey-flavored ice cream. (He hasn't tried any himself.)
And while the Salted Caramel Thanksgiving Turkey flavor from the artisanal scoop shop Salt and Straw doesn't use artificial flavors since it's made from caramelized turkey stock, other Thanksgiving treats, like Pringles' "Thanksgiving Dinner" tray of eight festive flavors, use artificial seasoning akin to Thanksgiving-themed ramen seasoning.
Thanksgiving reimagined in snacks and drinks
Thanksgiving ice creams
Ice cream might seem an unlikely base for Thanksgiving flavors. But two shops are offering customers the opportunity to enjoy Thanksgiving courses with ice cream that's naturally flavored.
At Salt and Straw, an artisanal ice cream shop with locations in San Francisco, Los Angeles and Portland, Oregon, there's the "Thanksgiving Dinner of Ice Cream Flavors." The so-called dinner, which costs $65 and ships nationwide, includes five pints of creatively flavored ice cream, from the extravagant salted caramel Thanksgiving turkey, and buttered mashed potatoes and gravy, to more conventional dessert flavors like spiced goat cheese and pumpkin pie.
The turkey flavor is made by caramelizing spiced turkey stock, the mashed potato flavor has real "gravy fudge" and the stuffing flavor includes ice cream spiked with celery soda.
Jeni's Splendid Ice Cream, an artisan scoop shop that began in Ohio, also sells a Thanksgiving-flavored ice cream collection that's available to ship nationwide. The Jeni's flavors include expected options like darkest chocolate, whiskey and pecans, salty caramel and pumpkin five-spice, and there's also a sweet potato with torched marshmallow flavor.
"Sweet potato with torched marshmallows has a cult following, no doubt," Jeni Britton Bauer, founder and chief creative officer of Jeni's Splendid Ice Creams, said in an email.
"[The art of ice cream] can bring you into the moment, and also transport you depending on the ingredients and the season." Jeni Britton Bauer, founder of Jeni's Splendid Ice Creams
When asked about why she uses fall flavors in ice cream, Britton Bauer noted she likes to use fall flavors because ice cream is about more than its coldness.
"[The art of ice cream] can bring you into the moment, and also transport you depending on the ingredients and the season," she said.
Thanksgiving chips
Pringles is bringing the turkey (and the green beans) to your chips. On Thursday, the company announced the "Thanksgiving dinner," a tray that has a few chips for eight new flavors based off the festive holiday.
"To create the chips, we hosted multiple taste tests comparing different flavors of Pringles with subtle differences. For example, there are multiple ways to prepare a turkey. We tried a deep-fried turkey flavor and an oven-roasted before we finalized the best Turkey flavored crisp," Kurt Simon, senior director of marketing for Pringles, said in an email, noting that the company used artificial and natural flavorings to create the unconventional chips.
A few other chip companies have dabbled in Thanksgiving flavors in the past — Boulder Canyon Foods released flavors including Turkey and Gravy in 2014. And Trader Joe's sells Turkey and Stuffing kettle chips.
Thanksgiving beers
Beers have also taken an micro-seasonal turn, too. At Devils Backbone in Roseland, Virginia, brewers have crafted a cranberry gose, a sour beer brewed with cranberry puree. Many breweries, including Big Alice in New York City, Vault in Yardley, Pennsylvania, and Funky Buddha in Oakland Park, Florida, have "sweet potato" ales this fall.
At Big Alice, real sweet potatoes are used in the brewing process.
"For this beer, 60 pounds of sweet potatoes are cubed and added with the grains in the first step of the brewing process called the mash," Matt Bui, a Big Alice sales representative, said in an email. He noted the natural sweet potato flavors contribute to the body, mouthfeel and color of the beer. The beer has a "minimal" sweet potato taste, according to Bui.
Thanksgiving flavored-foods: The verdict
At Mic, we dug into Salt and Straw's five-course ice cream "dinner" with trepidation, even though all of the pints contained naturally flavored ice creams. The mashed potato flavor tasted exactly like mashed potatoes and gravy, but it was "cold and smooth," one tester noted. (Another person said the flavor tasted like feet.) The turkey flavor wasn't as dreadful as we expected — savory caramel flavor seemed to overpower the meatiness. The crowd favorite? The pint of sweet potato casserole with maple pecans. "These are the flavors you'd want in a dessert," one tester said.
Our taste buds were thrilled — and appalled — by the the eight Thanksgiving Pringles flavors that used artificial and natural flavorings. There was a wide range of flavors; the turkey chip was pleasantly savory like ramen, the mac and cheese had an appropriately cheesy tang and the cranberry sauce and pumpkin pie flavors were unreasonably sweet. One chip became the clear winner: the stuffing chip smacked of fresh celery in the most comforting way. This was the most on-the-nose flavor in the entire tray.
But the overall sentiment? The products made us thankful we'll be sitting down to eat a real-deal Thanksgiving dinner.