Democrats continue their winning streak with big victories in New Mexico and Oklahoma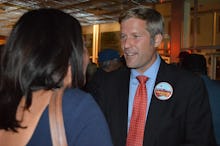 On Nov. 7, Democrats won resounding victories in off-year elections across the country, including a major sweep in the state of Virginia. One week later, Democrats have continued their streak with two big victories in Oklahoma and New Mexico.
In Tulsa, Oklahoma, a special election for a deep-red state Senate seat was flipped blue by a narrow margin of 50.3% to 49.7%. In 2016 the district voted 67% to 27% for Donald Trump in the presidential election.
Democrat Allison Ikley-Freeman, a therapist at a nonprofit community mental health agency and an out gay woman, beat Republican Brian O'Hara by just 31 votes, with an aggressive grassroots get-out-the-vote strategy.
"When we were knocking on doors, so many people said, 'Thank you. We didn't know there was an election," Ikley-Freeman told the Tulsa World.
In Albuquerque, New Mexico, Democrats won back the mayor's office for the first time in eight years with the election of progressive candidate Tim Keller, who beat Republican city councilman Dan Lewis with 62% of the vote.
Keller's victory is also notable as he ran using only publicly available campaign funds. His win is being heralded by local progressives and campaign finance reform advocates, who backed Keller's candidacy.
"Albuquerque rejected the divisive politics of Trump today." said J.D. Mathews, political director for the New Mexico Working Families Party, which endorsed Keller. "Tim Keller also proved that a publicly financed and grassroots focused campaign is viable. Coupled with a strong progressive platform, Keller beat other candidates who had raised millions of dollars in private money."
These victories, on the heels of the Nov. 7 Democratic sweep, are likely to embolden the party ahead of the 2018 midterm elections. And with Alabama's special Senate election thrown into chaos by recent allegations against Republican candidate Roy Moore, it's possible Democrats may notch another win before the year is over.