Ben Affleck's uncomfortable sexual misconduct joke brought this 'Justice League' interview to a halt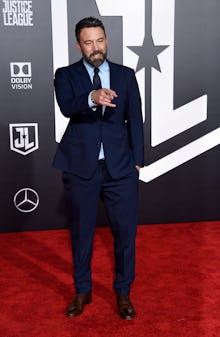 At a recent interview promoting the upcoming comic book blockbuster movie Justice League, the star-studded cast — including Gal Godot, Ezra Miller and Ray Fisher — all seemed to agree that they wanted another woman in the cast to fight alongside Godot's Wonder Woman and the rest of the team.
It was a forward-thinking moment for women's representation in action movies— and then Ben Affleck made a sexual misconduct joke.
"If you could pick any character to join the Justice League for a sequel, who would it be and why?" Sophie Boyden, a journalist for MTV U.K., asked the cast. The answers were all women superheroes: Black Canary, Supergirl and Zatanna.
But things took a turn when Boyden asked the cast what the characters they play would do if Supergirl joined the cast. Fisher, who plays Cyborg, started to answer: "I think it would just create a different dynamic, you know? But —"
But three-time Razzie winner Affleck, who plays Batman, interrupted his answer. "Are you following the news at all?" he asked Boyden, laughing at his own joking reference to the firestorm over sexual misconduct accusations against powerful men in entertainment, media and beyond.
A viral tweet captured the exact moment the rest of the cast reacted to Affleck's joke.
After an awkward silence following Affleck's misfire, Fisher continued with his answer, not addressing Affleck's remarks. Fisher and Miller, who plays the Flash, continued their call for more women in superhero movies.
Though Affleck was one of the first major male Hollywood stars to call out Weinstein for his alleged sexual misconduct, he was quickly decried by actress and Weinstein accuser Rose McGowan.
Her insult may have been a reference to Affleck's own apparent misconduct: In 2003, he groped actress Hilarie Burton's breast on Total Request Live.
Watch the Justice League interview with Affleck's joke below. The movie comes out Friday.