With Roy Moore resisting calls to step aside, what are the GOP's options in Alabama?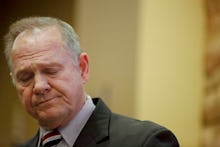 Roy Moore has faced increasing pressure from Republican Party leadership to withdraw from the Alabama senate race, but the embattled far-right firebrand has refused to step aside, calling the explosive allegations of child molestation an "attack" against him for "stand[ing] for the recognition for God."
"Why do you think they're giving me this trouble? Why do you think I'm being harassed?" Moore said at a campaign event in Jackson, Alabama, on Tuesday. "I'm now facing allegations and that's all the press wants to talk about. But I want to talk about the issues. I want to talk about where this country's going. And if we don't come back to God, we're not going anywhere."
By resisting their calls to step aside, Moore is forcing the GOP's hand. Prominent Republicans, including Senate Majority Leader Mitch McConnell, have publicly said they believe the women accusing the candidate.
But what do they do if he stays in the race — and what do they do if he somehow wins?
Limited options
With the less than a month before Alabama voters head to the ballot box, Republicans are running out of time to deal with Moore.
One option would be to run someone to challenge Moore as a write-in candidate — perhaps Luther Strange, who was appointed to the seat in February and lost to Moore in the GOP primary in September.
But Strange has said it is "highly unlikely" he would run such a campaign, and such a move means Republicans would risk splitting the vote and handing a victory to Democrat Doug Jones, who, according to a recent poll, has opened up a double-digit lead over Moore in the wake of the accusations.
McConnell on Tuesday publicly suggested a wild solution that has been floating around Capitol Hill in recent days: Attorney General Jeff Sessions running as a write-in candidate for the Senate seat he abandoned when he took the job as Trump's top law enforcement official.
"Lisa Murkowski from Alaska lost the primary, ran a write-in campaign in the general election and actually won," McConnell said at an event in Washington on Tuesday evening. "So, why did she win? She was totally well-known and extremely popular. And the name being the most often discussed may not be available, but the Alabamian who would fit that standard would be the attorney general, who is totally well-known and extremely popular in Alabama."
Sen. Richard Shelby (R-Ala.) has also suggested the possibility of Sessions running as a write-in candidate.
It would be a remarkable move, given Sessions' powerful role in the Trump administration; he would have to leave his post at the Department of Justice and mount a risky campaign that may not even be successful.
Sessions has been a subject of scrutiny as part of the ongoing investigations into Russian interference in the 2016 presidential election. President Donald Trump himself has publicly blasted his attorney general for recusing himself from matters relating to the probes.
If Sessions were to step down for a possible return to the Senate, Trump would be able to appoint a new attorney general — one who, unlike Sessions, would not necessarily be recused from Russia matters.
But Sessions has privately indicated he has no interest in returning to his old seat, according to CNN, and the idea seems to have little — if any — support from Alabamians.
The GOP has also been mulling either attempting to delay the special election from this December to next year or having Strange resign to void the election and require a new one. But Alabama Gov. Kay Ivey, a Republican, has said she will not postpone the special election, and it isn't even clear if the Strange gambit would be possible.
What can the GOP do if Moore wins?
Moore has lost his lead over Jones amid the allegations — and things could likely get worse for him.
In addition to losing support from more establishment Republicans, Moore has faced calls to step aside from Sen. Mike Lee (R-Utah) — previously one of his most prominent supporters — and Fox News pundit Sean Hannity, who faced backlash for his coverage of the disturbing allegations.
But what happens if Moore stays in the race and wins?
According to Sen. Susan Collins (R-Maine), the chamber would have "no choice" but to seat him.
That could lead to an exceedingly rare move by the Senate, according to McConnell, who has said Moore is "not fit" to serve on Capitol Hill. During an appearance at a Wall Street Journal event Tuesday evening, McConnell said Moore "would immediately be in a process before the Senate Ethics Committee" to be expelled upon being sworn in.
It would be a stunning move, one that hasn't been taken since the Civil War.
Only 15 senators in U.S. history have been booted from the chamber in such a manner — almost all of them for backing the Confederacy. The only one who wasn't expelled for that reason — William Blount — came in 1797 after it was revealed he had attempted to capture Spanish Florida and Louisiana with the help of the British and Native Americans.
Two-thirds of the Senate would need to vote to expel Moore, meaning it'll take more than just the Democrats to give the ex-judge the heave-ho. But some GOP members have suggested an unwillingness to go after Moore, even in light of the allegations against him.
Alabama Rep. Mo Brooks, a Republican, attempted to run away from an ABC News reporter who questioned him on Moore. He said only that he thinks "Democrats will do great damage to our country."
But the tide continues to turn against Moore in the Senate, where Republicans have overwhelmingly condemned the alleged sexual abuser of minors.
Sen. Cory Gardner (R-Colo.) — head of the National Republican Senatorial Committee, which has cut fundraising ties with Moore — said Monday that Moore should be expelled if he stays in the race and wins.
"He does not meet the ethical and moral requirements of the U.S. Senate," Gardner said.