CFPB director Richard Cordray stepping down could affect your money — here's how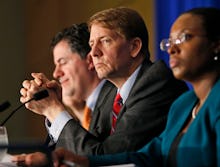 Richard Cordray, the first-ever director of the Consumer Financial Protection Bureau — an agency set up in the wake of the financial crisis to oversee consumer finance companies and regulate everything from student loans to ATM fees — will be stepping down from his post this month, according to an agency-wide email written by Cordray that was forwarded to Mic.
The agency declined to comment further on the change. Over the course of his tenure, Cordray's agency has reported, the CFPB helped return nearly $12 billion to consumers and victims of scams. It also promoted financial literacy and maintained a database of consumer complaints.
"I am confident that you will continue to move forward, nurture this institution we have built together and maintain its essential value to the American public," Cordray's email to the rest of the agency read. "And I trust that new leadership will see that value also and work to preserve it — perhaps in different ways than before, but desiring, as I have done, to serve in ways that benefit and strengthen our economy and our country."
This is an early exit for Cordray, whose tenure was meant to last through the summer, as a LA Times report notes. Finding a replacement is expected to be contentious, as defenders of the Obama-era agency are likely to put up a fight against whomever President Donald Trump ends up nominating.
Deputy press secretary at the White House Raj Shah said in a statement emailed to Mic that an acting director and potential replacement will be announced at the "appropriate time."
Under Cordray's tenure, the CFPB unearthed serious scandals, like Wells Fargo's opening of sham bank accounts; cracked down on shady student loan servicers that the watchdog organization said were misleading students; and instigated new rules to rein in debt collectors. Along with Cordray himself, the agency has also often come under fire from critics in Congress who have felt it oversteps its authority.
On Oct. 25, Senate Republicans voted to undo a CFPB rule that would have restricted companies' use of binding arbitration clauses in its terms agreements. After reviewing five years' worth of data on the matter, the CFPB determined that binding arbitration clauses helped insulate companies like Wells Fargo and Equifax from being the targets of class-action lawsuits that would create a stronger incentive to avoid misleading consumers.
"The guy has done amazing work," said Carter Dougherty, communications director at Americans for Financial Reform. "It's the first federal agency dedicated solely to looking after consumers, and they have obtained [about] $12 billion in relief for consumers."
Cordray's replacement is likely to be a more pro-business, less-consumer-friendly choice, Bankrate's Mark Hamrick wrote in an email to Mic.
"For President [Donald] Trump, it will be yet another opportunity to put his stamp on a nominee who is friendlier to business and more inclined to deregulate," Hamrick said. "For consumers, the risk is that they will have fewer advocates working for them in the federal government."
Though he has not announced a political run openly, Cordray — also known for multiple runs as a Jeopardy champion — is widely expected to be leaving his position to run for governor of Ohio.
If he does, he might have limited options for easy-to-remember website URLs: The domain name Cordray2018.com has already been purchased by Protect America's Consumers, a dark-money group that has long targeted the CFPB with attack ads, according to a Sunlight Foundation report.
The CFPB is one of few institutions enjoying bipartisan support today. Though it is not as well-known as other agencies, Democrats approved of its mission by a 4-to-1 margin, according to a recent CreditCards.com survey. Republicans approved it by a 2-to-1 margin.
Sign up for the Payoff — your weekly crash course on how to live your best financial life.