After Sutherland Springs massacre, Americans want gun control more than ever, according to poll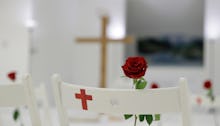 In the wake of the Nov. 5 shooting at a Sutherland Springs, Texas, church that killed 26 people, support for universal background checks has surged among American voters.
According to a national poll released Wednesday by Quinnipiac University, 95% of respondents said they supported the gun control measure, while 4% said they oppose it. Among households with a gun owner, support still held strong, with 94% of respondents in favor of universal background checks.
The results represent the highest level of support for universal background checks since Quinnipiac polled Americans in February 2013, after the deadly shooting at Sandy Hook Elementary School in Newtown, Connecticut.
In addition to the widespread support for universal background checks, 65% of respondents also said they were in favor of a nationwide ban on assault weapons sales — a similarly record-breaking high. Among households with gun owners, support hovered at 51%.
And while 59% of the Americans polled said it's currently too easy to buy a gun in the United States, 37% said they believe the ease with which guns can be bought is causing the recent mass shootings that have become endemic to our national culture.
Since June 2016, when a lone gunman opened fire in a crowded nightclub in Orlando, Florida, killing dozens of young, mostly gay Americans, there have been 555 mass shooting events, according to the New York Times.
Although U.S. lawmakers on the left have repeatedly pushed for initiatives aimed at curbing gun violence — including, most recently, a measure to ban the sale of bump stocks, which enable semi-automatic rifles to essentially function as automatic weapons — Congress has taken no definitive action.
"With each American gun massacre, there is stronger voter support for tighter gun control measures," said Tim Malloy, assistant director of the Quinnipiac University poll. "But the cynical view prevails. Stricter laws will do no good whatsoever in a country with more guns than people."