Roy Moore now trails Democrat Doug Jones by 12 points in Alabama amid sexual misconduct allegations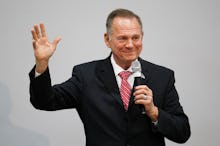 In the midst of his near complete and utter denunciation from establishment Republicans following accusations of sexual misconduct, Politico reported Republican Senate nominee Roy Moore of Alabama now trails his Democratic opponent by 12 points in the deep-red state, according to a poll the National Republican Senatorial Committee conducted.
According to Politico, the NRSC poll shows Democratic Senate candidate Doug Jones commanding a slim majority — 51% — to former frontrunner Moore's 39%. The seismic shift likely represents the toll taken after five women came forward to accuse Moore of pursuing them when they were teenagers.
Two of the five women accused Moore of sexual misconduct. Moore has denied any claims of sexual misconduct, but issued a tepid response as to the accusation that he pursued romantic relationships with teenagers.
The allegations, coupled with Moore's inability to unequivocally disavow all of the claims against him, incited many key figures in the Republican Party to turn their back on the Senate nominee. Those prominent Republicans rejecting Moore include Senate Majority Leader Mitch McConnell, House Speaker Paul Ryan and — perhaps most damningly of all — Attorney General Jeff Sessions, who most recently held the seat for which Moore is running.
The special election is scheduled to take place on Dec. 12.