California congressman on Tuesday's deadly school shooting: "I hope we would do more"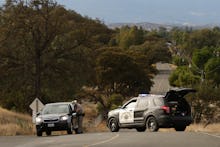 Rep. Ted Lieu (D-Calif.) on Wednesday called for Congress to take action in the wake of a shooting in his home state that left six dead, including the alleged killer, and several others wounded.
"I am heartbroken at yet another mass shooting and another tragic loss of life, especially for the victims in my home state of California," Lieu said in a phone interview with Mic. "I hope we would do more than just stand around silently for another 60 seconds."
On Tuesday, a man went on a rampage in northern California, killing five and wounding several others — including two children. The suspect, who killed his wife the previous night and was shot dead by police, was later identified as Kevin Neal.
According to his sister, Sheridan Orr, Neal had a history of mental health issues and had "no business" owning guns.
The deadly shooting came just over a week after 26 people were killed in a mass shooting at a church in Sutherland Springs, Texas.
Lieu elected not to participate in a moment of silence on Capitol Hill following that shooting, saying he had been involved in "too many" of them since joining Congress and urging lawmakers to take serious action on gun control.
"I will not be silent," Lieu said in a video posted to Facebook. "We need to pass gun safety legislation now."
In his phone interview with Mic, Lieu said Congress should also address the monetary bail system — at the time of the shooting, Neal was reportedly out on bail after being charged with stabbing a neighbor. He was also the "subject of a domestic violence call" on Monday, according to Time.
Lieu has repeatedly said the monetary bail system is "broken" and should be reformed.
"We let go of a dangerous person," Lieu said.