Watch Trixie and Katya explain why Marc Jacobs is the "social media fairy godmother" of drag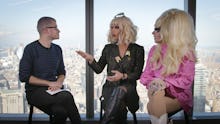 Over the course of its 11 seasons, RuPaul's Drag Race has amassed a ton of A-list fans — Lady Gaga, Laverne Cox, Miley Cyrus and Nicki Minaj just to name a few. But arguably the biggest fan among them? Designer Marc Jacobs.
Jacobs first appeared as a judge during season eight of the competition reality show. "I'd idolized him my entire life, so when I heard that he was going to be a guest judge, I was flabbergasted," season eight contestant Kim Chi told W Magazine.
Jacobs' love for the show predates his initial appearance to when he cast season six alum (and upcoming All-Stars 3 competitor) Milk in his Spring/Summer 2018 campaign alongside Bette Midler, Sandra Bernhard and Lana Wachowski.
"From seasonal employee with the company to now a face of it… what a magically fabulous journey it's been," Dan Donigan, aka Milk, told me at the time.
Jacobs even co-hosted a Drag Ball at New York Fashion Week with RuPaul, attended by Drag Race alums Detox, Raja, Dida Ritz, Miss Fame, Violet Chachki and more. And speaking of Detox, the season five/All-Stars 2 alum has been featured in videos on Jacobs' official YouTube page.
So when Katya and Trixie and Trixie stopped by the Mic office, we had to ask whether the affection was shared.
"Marc Jacobs is the ultimate Drag Race fan and let me tell you why," Katya began, grabbing a pair of Marc Jacobs sunglasses from her assistant mid-interview. "Marc Jacobs loves the girls, and he is the social media fairy godmother of all the girls. You'll post a thing and it'll say 'Marc Jacobs' in the comment with hearts or like, wonderful really sincere words of encouragement."
"And bitch, you know who follows me on Twitter?" Trixie added. "Melissa Joan Hart. Why? I don't know."
"Yeah," Katya remarked, "explain that one, Clarissa."