More women come forward to accuse Republican Senate nominee Roy Moore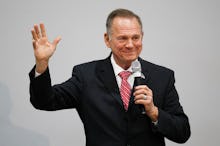 Three more women came forward Wednesday with accusations against beleaguered Republican Senate nominee Roy Moore.
In an article published on Al.com Wednesday evening, one woman alleged that Moore groped her in 1991. Unlike the previous accusers who were under 18, she was 28 at the time.
"[Moore] kept commenting on my looks, telling me how pretty I was, how nice I looked," said Tina Johnson, an Alabama woman who had business at Moore's legal practice when he practiced law in the private sector.
When she got up to leave, Johnson said, Moore groped her buttocks.
"He didn't pinch it; he grabbed it," Johnson said.
Another woman, Kelly Harrison Thorp, told Al.com that Moore asked her out on a date in 1982, when he was deputy district attorney for Etowah County and she was a 17-year-old waitress at Red Lobster.
"I just kind of said, 'Do you know how old I am?'" Thorp said. "And he said, 'Yeah. I go out with girls your age all the time.'" Moore was in his 30s.
Gena Richardson, a 58 year old teacher at a community college, told the Washington Post that Moore made romantic overtures towards her when she was a high school senior working at the Sears in the mall in Moore's hometown of Gadsden. When she rejected his advances at the store, he called the principal's office of her high school in order to speak with her again. Nervously, she agreed to a date with him, but according to Richardson, it ended with Moore attempting to force her to kiss him.
"I never wanted to see him again," she told the Post.
Richardson, Thorp and Johnson join five other women who have come forward with an accusation against Moore, the Republican Senate nominee for Attorney General Jeff Sessions' former seat in the United States Senate. Since the Washington Post first reported the allegations against him on Thursday, Moore has been rebuked by key members of the Republican establishment.
A National Republican Senatorial Committee poll reportedly showed Moore trailing Democratic opponent Doug Jones by a whopping 12 points in the deep red state of Alabama.
Nov. 16, 2017 8:42 a.m.: This story has been updated.