Republican lawmaker: Tax reform "could lose all the seats in the Northeast" for the GOP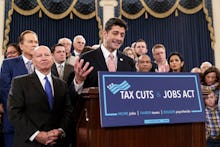 House Republicans are set to vote on their version of tax reform Thursday afternoon, a plan President Donald Trump and other GOP leaders say will be a boon to the economy and is key to Republican success in the 2018 midterm elections.
However polling shows that the Republican tax plans are unpopular among the electorate, a majority of whom believe the bill will benefit the rich and not the middle class.
And at least one Republican lawmaker is sounding the alarm, saying the bill is going to be an electoral disaster for the GOP when voters head to the polls next November.
Rep. Pete King (R-N.Y.) said the plan "could lose all the seats in the Northeast" for Republicans, according to Fox News' Chad Pergram.
"This will be a major issue against Republicans," King told Fox News on Wednesday, adding that most of his constituents would see their taxes increase because of this plan. "This would give ammunition to Democrats to use against us."
The tax plans Republicans are debating do provide easy attack fodder for Democrats.
The plans would make the massive tax cuts for corporations permanent, but the cuts for individual families temporary.
And non-partisan analysis shows that number of middle-class families could see their taxes increase — betraying Republican campaign promises.
A new Quinnipiac poll from Wednesday shows a majority of voters disapprove of the GOP tax plan, with 61% saying the plan "would mainly benefit" the rich.
And Republican support of the plan is tepid, at best, with 60% of Republican voters saying they approve of the bill.
For comparison, the polling on the Republican tax plan is just as bad as the polling on the Affordable Care Act back in 2009, when Democrats controlled Congress and were trying to push through the landmark health care bill.
Still, Republicans are full speed ahead on the plan.
The House will hold a vote late Thursday, right before lawmakers flee Washington for the Thanksgiving holiday.
At least 10 Republicans who represent suburban districts in New York, New Jersey and California — where voters could see their taxes increase because of the tax plan — are expected to vote against the plan, according to HuffPost's Matt Fuller.
That's far fewer than the 22 votes needed to tank the bill.
The Senate is also wrapping up their hearings on their version of tax reform, and could schedule a vote for after the Thanksgiving recess.