Apple Podcasts app giving you the "episode unavailable" error? Here's the fix and best alternatives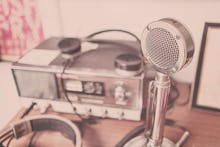 Photo by Gavin Whitner
Of all the iPhone users who listen to podcasts, 80% use Apple's built-in Podcasts app. If you're one such person, then you know the struggle.
The Apple Podcast app was released in 2012, bringing users a convenient way to download audio shows for your morning commute. In iOS 11, the app continues to bring us comedy routines and true crime shows straight to our ears. It's all well and good until this happens:
How do I play my podcast episode?
Just when you thought you had an episode downloaded and ready for your commute, the "Episode Unavailable" dialogue box appears. How will you listen to The Read?
Once you're done cursing at your phone, try quitting the app by double tapping the home button and swiping up on the Podcasts app. Or, on iPhone X, invoke gesture magic and hold the Podcasts app card until the red button is revealed. Tap it to quit. Your second option is to toggle Airplane Mode in the Settings app.
But if those don't work, you can tap the Search button in the bottom right and type in the name of the podcast you want to listen to. Find the show and episode you want to hear, tap on it and hit Play.
What if I never want to use Apple's Podcasts app again?
If you want to quit using Apple's app, there are other options.
Other apps, ones you probably use right now, may support podcasts too. Many popular podcasts are on Spotify and if you already use that to listen to music, adding podcasts in there may not be much of a hassle. Many podcasters also put their shows on SoundCloud; see if your favorite shows can be found there too.
Then there are apps you probably don't use already. Solutions like Pocket Casts and Stitcher offer a quality option to intake your audio shows. As a bonus, they'll work with Android if you decide to change teams or own devices in both camps; iOS-only apps like the latest Overcast are quality apps as well.
All of these solutions are free or have free options except for Pocket Casts, which is $5.99 on iOS and $3.99 on Android. How much is never seeing "episode unavailable" again worth to you?