Rapper Eve offers an unexpected criticism of Nicki Minaj's 'Paper' cover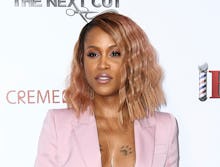 For its winter issue, Paper magazine enlisted Nicki Minaj to help them bring the internet to a full stop or, in their words, "break the internet."
They tried this most memorably before in 2014 with their Kim Kardashian West cover that had her bare-bummed and oiled up. Now in Minaj's case, "breaking the internet" meant a cover and inside spread featuring the rapper erotically posed and edited to look like she was pleasuring alternate versions of herself.
Cheekily titled "Minaj à trois," it pretty much did what it set out to do on Wednesday, setting the internet alight and inviting plenty of talk.
Hours after its debut, the show literally called the The Talk weighed in, with the rapper Eve, who's worked with Minaj before and who started her stint on the show just earlier this week, taking a stance against the photos.
"As a woman, from my point of view personally, I would not be able to do that," Eve said. "In this climate it's not good. I think every artist has a right to express themselves however they want to express themselves, and I respect that as well. For me personally, as I started coming up in the business, I started realizing that young girls were looking up to me and younger people were looking up to me."
"Not that you want to be a role model, but ... it is what you are. It's a responsibility whether you like it or not," Eve continued. "And I have always, as I've gotten older, learned that I'd just rather be a voice that's uplifting, that I can be a voice for those girls who might not have a voice in a different way without showing myself off, with my brain."
The audience cheered, and then Eve sent a message to all of Minaj's fans, who she knew were listening.
"For the Nicki fans, because I know I'm going to get some tweets from her fans ... I love her, respect her, go women in hip-hop ... I just don't think it's right, personally that's it."
Fans are split on the criticism. While plenty feel like she really meant no disrespect...
... others are pointing out the shaming aspect of Eve's comments.
Who's to say that a woman owning her sexuality, and celebrating her sexuality, is outright damaging? Isn't shaming sexuality, and censoring it, more damaging?
Fans have also brought to light an old clip of Minaj talking on The View about this exact issue, with people taking issue with her status as a role model because of how she chooses to dress and pose.
"I'm not not showing skin because of 5- and 6-year-olds, because 5- and 6-year-olds have to be parented by their parents," she said. "I'm not their parent. ... I'm really, you know, potty-mouth and all that crazy stuff, but I'm also very realistic in telling them hey, I worked hard for what I have."
So that settles that.