Here are all of the allegations of sexual misconduct against Roy Moore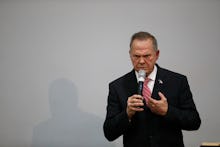 Welcome to Mic's daily read on Donald Trump's America. Want to receive this as a daily email in your inbox? Subscribe here.
Thursday's dispatch: 8 allegations against Roy Moore
The allegations against Republican Senate candidate Roy Moore have risen to the rate of one per day.
A week after the Washington Post broke the story about Moore's alleged history of sexual misconduct, eight women have now said publicly they were harassed or assaulted by Moore.
A new poll released by Republicans shows Moore trailing his Democrat opponent Doug Jones in the Alabama Senate race by double-digits. The GOP establishment has essentially abandoned Moore, pulling all resources for and high-profile endorsements of his race. They're even looking for ways to stall the special election.
Moore's attorney Wednesday blasted the account of one of Moore's latest accusers. Yet local Republican leaders continue to stand by Moore. After Moore wrote him an open letter, Sean Hannity backed off his threat to abandon Moore. And several Republicans running against incumbent Senate Democrats in 2018 are notably not commenting on Moore, despite the outcry from GOP senators in Washington.
The special Senate election in Alabama is a little less than a month away. But a week after these allegations surfaced, it's important to understand exactly what Moore is being accused of.
Here are summaries of all eight women who have publicly accused Moore of sexual misconduct or harassment.
1. The first Post story> detailed accounts from four women. Leigh Corfman said that when she was 14, Moore drove her to a remote cabin, kissed her, touched her over her underwear and brought her hand to touch his groin. "I wanted it over with — I wanted out," she said.
2. Gloria Thacker Deason said she went on dates with Moore when she was 18 and Moore was 32. Those included drinking bottles of wine when the legal drinking age in Alabama was 19.
3. Wendy Miller said that when she was 16, Moore attempted to take her on dates. This included pursuing her at a mall. Miller says Moore asked her on a date in front of her mother.
4. In 1981, a couple years after Miller said Moore pursued her, he reportedly had relationship with Debbie Wesson Gibson over the course of a few months. There was a 17-year age difference between Moore and Gibson, who says Moore kissed her multiple times that summer.
5. On Monday, Beverly Young Nelson held a press conference, where she accused Moore of molesting her outside a restaurant where she worked and where he was a frequent patron in the late 1970s.
6. By Wednesday, three more women came forward. Gena Richardson told the Post that Moore forced her to kiss him in a Sears parking lot on a dark night in 1977. She was 18 and he was 30. Her account and others detail predatory behavior by Moore in a local mall.
7. Tina Johnson told Al.com that in 1991, Moore allegedly groped her buttocks while she was in his law office with her mother. "He didn't pinch it; he grabbed it," she said. Johnson was 28, while all but one of the other accusers were under 18 when Moore allegedly harassed or assaulted them.
8. Kelly Harrison Thorp also told Al.com that Moore repeatedly asked her on dates when she was 17. "I just kind of said, 'Do you know how old I am?'" Thorp said. "And he said, 'Yeah. I go out with girls your age all the time.'" Moore was in his 30s.
Today's question: Do you believe Republicans have handled the situation with Roy Moore as they should?
Please email us your thoughts at trumpsamerica@mic.com.
Thursday in Trump's America:
Tax reform: House Republicans will vote Thursday to advance their tax reform legislation. Passage is expected to be easy in the House. The Senate will be much more difficult. Some GOP senators are concerned about repealing the Affordable Care Act's individual mandate as part of the tax package. Others believe it is too stilted to favor corporations.
One Republican senator has already announced his opposition to the Senate tax plan. Other key Republicans, like Sens. Susan Collins of Maine, Bob Corker of Tennessee and John McCain of Arizona, have also voiced concerns.
Politico has a breakdown of the differences between the two bills.
Cordray stepping down: The head of the Consumer Financial Protection Bureau announced he will step down from leading the agency that targets predatory banking practices. Richard Cordray is planning to run for governor of Ohio. Trump is not expected to fill the position, one Republicans have loathed since Democrats created it.
Gun control: A top Senate Republican and a Democratic senator leading the gun control argument are teaming up to enhance the U.S. background check database in the wake of a mass shooting in Texas where the gunman should not have been able to purchase the gun.
Fox News: As Sean Hannity has peddled conspiracy theories, Fox News' Shepard Smith has become a voice of reason at the network.
Sexual assault: 50 current and former people Capitol Hill workers detailed stories of sexual assault and harassment to CNN.
Hate speech: Twitter has removed its blue badge of verification from several prominent white nationalists following a revision to its policies.
Media: The Koch brothers, known for spending hundreds of millions of dollars to finance conservative political causes, are reportedly backing a purchase of Time Inc. with more than $500 million.
Trump admin: The government is allowing hunters to bring elephant trophies back to the country, reversing an Obama-era rule meant to deter poaching.
Under the radar:
Stories you may miss elsewhere.
Trump's taxes: The outgoing IRS commissioner told Politico his agency is building a safe for Trump's tax returns.
Blue wave in 2018? The GOP may not be ready for it, say former Republican campaign officials.
Net neutrality: The Federal Communications Commission is planning a vote in December to roll back Obama-era rules that mandated fair treatment of online traffic.
Climate change: 15,000 scientists from 184 countries say the globe is failing to respond to environmental threats.
Today's MicBite:
The choice Alabama voters have to make. Tap or click the video below to watch.