A 'Drag Race'-inspired look, seen as mocking people with vitiligo, has a beauty blogger apologizing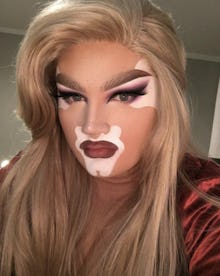 All makeup blogger Golgi Apparatus, who goes by @GolgiKnowsBest on Instagram, wanted to do was pay homage to one of their favorite drag queens from RuPaul's Drag Race: Valentina.
Earlier this week, Apparatus attempted to recreate one of Valentina's latest photoshoots, which showed her with silver patches painted onto her body.
Harmless enough, right? But in a departure from the original inspiration, Apparatus didn't paint parts of their skin silver, but painted their face to make it look like certain patches were a different skin hue. And that, to many, made it look like Apparatus was mimicking someone with vitiligo.
For people who have vitiligo particularly, seeing this blogger paint their face in a way that makes them look like they have it felt disrespectful and insensitive.
Apparatus ended up taking the image down, and formally apologizing to fans.
"I didn't expect for this to get nearly as much attention as it did, so I was shocked when I came from work to see so many fighting and negativity in the comments. To clarify: this was inspired by a photo of @allaboutvalentina in which she had grey splotches on her face and running down her arms," Apparatus wrote on Instagram.
"This look was just a way for me to have more fun/experiment with my makeup," Apparatus continued. "I in NO WAY intended for this to represent vitiligo, and I sincerely apologize that it offended so many people. I do admit I could've clarified some of that a bit more, but we all learn from our mistakes! At the end of the day, no one is immune to controversy and we can all grow from it!"
In an email to Mic, Apparatus said that they chose to do white marks instead of grey as a way to put their own spin on the look. In no way was it about alluding to vitiligo.
"I really never intended for the look to resemble vitiligo in the slightest," Apparatus wrote. "Honestly, I didn't even really know much about it. People kept pointing out the similarities between me and Winnie Harlow, and I completely see those similarities, but vitiligo just wasn't even on my radar. I just wanted to make something abstract and beautiful."
Needless to say, Apparatus is truly shocked at the outrage that the post caused.
"I noticed the similarities to vitiligo before I posted the photo, but I didn't imagine this terrible backlash," Apparatus wrote. "I've been personally messaged by several people living with vitiligo and their reactions have ranged everything from 'I was offended by this, but thank you for apologizing" to 'Thank you for putting a spotlight on this and seeing the beauty in people like me.'"
So now you can add this to the very, very, very long list of problematic beauty tutorials.
Nov. 15, 2017, 4:40 p.m.: This post has been updated.