Twitter removed its "verified" check from some white nationalists — but is that enough?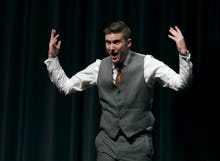 On Wednesday, prominent white supremacist Richard Spencer and several members of his "alt-right" cohort found themselves suddenly stripped of their blue "verification" checkmarks on Twitter. The changes came after the social media platform revised its guidelines around verification, writing in a series of tweets that the seal of legitimacy had "long been perceived as an endorsement."
"We gave verified accounts visual prominence on the service which deepened this perception," Twitter's support team wrote. "We should have addressed this earlier but did not prioritize the work as we should have."
On its website, the platform added language claiming that it reserves the right going forward to revoke the "verified" designation at any time from users who are "promoting hate or violence, attacking or threatening people based on their race, sexual orientation, gender and religious affiliation, and engaging in harassment."
On the day of the announcement, Spencer immediately dispelled any lingering questions as to whether or not his Twitter presence had merited a removal of the blue check mark, musing in a tweet, "Verified no more! Is it not okay to be proudly white?"
The revised guidelines come amid a larger push by Twitter to tackle the complaints of rampant abuse and hate speech that have dogged the platform for years. But despite the effort to crack down on hate speech and identity-based attacks on the site, some say that the company still isn't doing enough to protect its users.
In October, female Twitter users organized a boycott of the platform after the site temporarily suspended the account of actress Rose McGowan — one of dozens of women who had recently come forward with accusations against former Hollywood producer Harvey Weinstein.
"Hey @Twitter, let us know which of these rules @rosemcgowan broke," actress Jessica Chastain wrote alongside a link to the site's official rules of use. "Asking for multiple victims of sexual violence."
The boycott prompted a response from Twitter founder and CEO Jack Dorsey, who tweeted that the site "need[s] to be a lot more transparent in our actions in order to build trust."
This isn't the first time Twitter has run afoul of the far right. In 2016, the site permanently suspended the account of far-right paragon Milo Yiannopolous after he incited a rhetorical war against actress and comedian Leslie Jones. The unprecedented move was the most aggressive action the site had taken up until that moment, and was one that Yiannapoulos said marked "the end for Twitter."
"Like all acts of the totalitarian regressive left, this will blow up in their faces, netting me more adoring fans," he told Breitbart at the time. "We're winning the culture war, and Twitter just shot themselves in the foot."