2018 Food Trends: Here's what everyone will be eating (and Instagramming)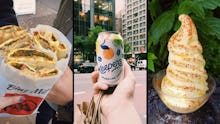 Nothing unites Americans quite like their love — or hatred — of food. Food trends attract a special kind of admiration and sometimes, disgust: In 2017, some welcomed food halls and veggie-centric dining into their lives with open mouths, while others groaned about rainbow foods and edible raw cookie dough. Beauty is in the eye (or the stomach) of the beholder, and every bite you take is one that influences the food landscape of America.
But predicting which foods and flavors will captivate our taste buds and which ones get overlooked can be a highly unscientific business. An eye-catching Instagram fad that's a flash in the social media pan does not constitute a bonafide trend.
"True food trends move at kind of a glacial pace," Annika Stensson, director of research communications for the National Restaurant Association told the New York Times in December 2016. "It can take a decade or more to reach the mainstream." Trends often peak when the biggest corporations catch on, such as when food products hit major retailers or ingredients are featured in Starbucks drinks. (Here's looking at you, unicorn drinks.)
Our collective taste buds change ever so slowly, meaning predictions may become reality in one year — or one decade. With that said, please enjoy Mic's take on the seven food trends that will dominate 2018, and take them with the appropriate grain of (Himalayan sea) salt.
Sparkling cold brew
Caffeine in the summer once meant iced coffee — plain old coffee that got cooled and watered down with ice cubes. Next, consumers got turned on to cold brew when Starbucks (and later, Dunkin' Donuts) began selling the smoother, darker brew. Next up? We're predicting that Americans fall for carbonated coffees, which are already popular in cities like Istanbul.
In 2017, Stumptown Coffee launched their sparkling cold brew, which is created from cold brew concentrate and soda water. And there are plenty of other companies and start-ups — Matchless in Nashville, Tennessee, and Upfruit in Brooklyn, New York — brewing up the stuff and adding fun flavors like citrus or hazelnut. The beverage is a harmonious marriage between caffeine and bubbles that will appeal to legions of bubbles-obsessed La Croix fans.
Tajin
If you've ever bought slices of mango from a street vendor, you're probably already familiar with Tajin: a blend of salt, lime and chili powder, a holy trinity in Mexican cooking. This spice brand been around since 1985. It's certainly not the only one who's married these flavors — acid, salt and heat are the key ingredients in chili lime powders. As Saveur noted, "[Tajin] is a brand, but just like Kleenex and Xerox, its common use across Mexico has made it synonymous with salsa en polvo, literally salsa powder."
Tajin makes it easy to add complex flavor to fruits, drinks and other sweets. The seasoning had a breakout moment in 2017, when Disneyland visitors realized the seasoning was a delectable topping on Dole Whip, the amusement park's beloved pineapple soft serve. (It's also great sprinkled on watermelon, corn, guacamole and more.) Expect to see more from this versatile spice in 2018.
Specialty mushrooms
Make room for mushrooms. Whole Foods named mushrooms as a food trend of 2018 and we agree that the fungi is ripe for the spotlight. Wellness bloggers have flocked to mushroom varieties like cordyceps and reishi for their purported health benefits, and these adaptogens are primed to move from fringe fascinations to full-blown mainstream trend. Zion Market Research expects the global mushroom industry to reach $59.48 billion by 2021, up from $35.08 billion in 2015. As people continue to view food as functional medicine, look out for Rebbl, a coffee mixed with mushrooms and more mushroom meat replacements.
Plant-based dairy
Americans have been drinking less milk over the past decade, and companies making dairy from unconventional ingredients might convince them to pick up cow-free products. Plant-based dairy has gone way beyond almond and soy milk and alternative milks are making their way onto supermarket shelves and into coffeeshops. New milks include Oatly (milk made from oats) and Milkadamia (made from macadamia nuts), and lactose-free milk, cheese and yogurt are about to be more plentiful than ever before. Companies like Kite Hill and Miykonos Kitchen are making butter, yogurt, cream cheese and more from almonds, cashews and coconut oil.
Boozeless cocktails
Cheers to fewer hangovers: you can finally free yourself from the pressure to drink socially. More bars are offering low-alcohol options like kombucha on tap and others like Gracias Madre in Los Angeles feature entire sections of alcohol-free mixed drinks on their cocktail menus. (Theirs is cheekily called "On the Wagon.)
As Thrillist noted, the move could be helpful for people behind the bar, too. "The restaurant industry has a long and complicated history with alcohol abuse," contributor Gabriella Gershenson wrote. "The challenge of sobriety in an industry known for its hard partying has also led to a growing interest in not-boring virgin drinks."
Jianbing
Chinese jianbing are a savory breakfast street food that's similar to a crepe. It's made from mung bean, rice or millet flour and typically filled with eggs, cilantro, spicy sauce and fried wontons or other crackers. The crunchy, eggy and spicy sandwich has multiple complex textures. Jianbing aren't "new" per se — people in China have been eating jianbing for thousands of years. Yet the debut of jianbing vendors and food trucks from Seattle to New York City and Portland, Oregon, signals that Americans are hungry for more.
Smart cooking
Technology can make cooking easier, and 2018 is sure to see connected kitchen gadgets that can assist with everything from ordering more flour and sugar to turning on your oven remotely. Home cooks are already using Amazon Alexa and Google Home, both smart speakers, to help guide them in the kitchen. The devices can answer questions like "how many ounces are in a cup?" so you'll never risk getting cookie dough on your phone again. Other players like BuzzFeed are getting into the connected gadgets game, too. BuzzFeed Tasty's hot plate, a multi-use plate that can allegedly sous vide and sync to its viral food videos, debuted in 2017 and odds are that more players will marry tech, mobile apps and kitchen gadgets.
Romanesco
How can you say no to a vegetable that looks like a mini spaceship? Romanesco made its U.S. debut in the 1900s, after being grown in Italy for roughly five centuries, Modern Farmer reported. This cruciferous veggie has a distinctive look, yet it a mild, nutty taste when roasted. Some call it "fractal broccoli" because of its geometric shape; the veg even got some time on the silver screen in 2017 when a character in Star Wars: The Force Awakens noshed on the veggie. Its latest starring role: a prime spot on the $28 crudite plate at the Aviary New York, an outpost of Grant Achatz's Chicago bar-restaurant.
Hard cider
Cider is about the get the craft beer treatment. Expect to see small batch ciders alongside craft beers at bars, restaurants and grocery stores. Hard cider was a staple beverage in the American colonies and it's ripe for a comeback. Though the big cider-makers aren't making waves in sales, consumers are showing more interest in local and small cider brands, Draft, a craft beverage magazine reported. New cideries are blurring the lines between beer and cider, too — like aging sour ciders on unique flavors like coriander or citrus peel or adding hops into the mix. And even established cider brands are experimenting with new flavors and ingredients: Angry Orchard has an "Innovation Cider House" at their Walden, New York, location, where the company tries out experimental styles.
"Since 2011 the growth of the cider industry has been astronomical," Gregory M. Peck, an assistant professor at Cornell's College of Agriculture, told Cornell Research, the university's online news site. "There's been more than a 900% increase in the volume of cider produced in the U.S."
After a year when the top Instagrammed restaurants revealed that people prefer to share skyline views and clubs rather than actual dishes, here's hoping these products and flavors will break through — both on and off Instagram.
December 7, 2017, 9:34 a.m.: This article has been updated.