What happens if Al Franken has to resign?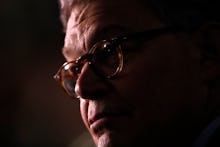 Sen. Al Franken (D-Minn.) on Thursday was accused by a Los Angeles sportscaster of forcibly kissing her during a Middle East tour in 2006 and later groping her while she slept — a claim for which she provided what appeared to be photographic evidence.
Leann Tweeden, a radio host, said that Franken "aggressively" kissed her without her consent during a rehearsal for a skit on a United Service Organizations tour to entertain United States service members and later touched her breasts while she slept on the trip back to the U.S.
In an initial statement, the Minnesota Democrat claimed that he does not "remember the rehearsal for the skit in the same way" as Tweeden and that the photo was "clearly intended to be funny."
But there was "nothing funny" about Franken's actions, Tweeden wrote in her account of the alleged assault Thursday.
"You knew exactly what you were doing. You forcibly kissed me without my consent, grabbed my breasts while I was sleeping and had someone take a photo of you doing it, knowing I would see it later, and be ashamed," Tweeden wrote. "I want the days of silence to be over forever."
What happens next?
The allegations raise significant questions about Franken's future in the Senate.
What would it mean if he ends up resigning?
As the Washington Post notes, a resignation would mean that Democratic Gov. Mark Dayton would get to appoint someone to fill the vacated seat, with a special election in 2018 to fill the seat until 2020, when Franken would come up for re-election.
Democrats, in other words, would likely be able to hold onto the seat.
For now, though, it does not appear that the popular Minnesota liberal has immediate intentions to step down.
In a second statement released by Franken later Thursday, he apologized for failing to be an "ally and supporter" of women and said he was "committed to making it up to them."
The explosive allegations against Franken Thursday came as industries from Hollywood to Washington, D.C., are being forced to reckon with unchecked sexual misconduct among men in positions of power.
On Tuesday, the House Administration Committee held a hearing on sexual harassment and abuse on Capitol Hill, during which Rep. Jackie Speier (D-Calif.) — who said in October that she had been assaulted while she was a Congressional aide — said that two currently serving members of Congress have engaged in sexual harassment.
Tweeden acknowledged Speier's #MeToo story of sexual assault in her account of her experience with Franken, writing that she is "telling [her] story because there may be others."
The situation poses a test to Democrats, who — after hammering Republicans over the disturbing child molestation accusations against Alabama senate hopeful Roy Moore — are now forced to reckon with claims of misconduct against one of the most popular members of their own ranks.
By Thursday afternoon, several Democrats had joined Senate Majority Leader Mitch McConnell in calling for an Ethics Committee review of Franken.
"I believe her, and if there's an ethics investigation, that should move forward as well," Sen. Tammy Duckworth (D-Ill.) said of Tweeden's accusations, according to the Washington Post. Sen. Kirsten Gillibrand (D-N.Y.) called Franken's alleged behavior "disturbing."
In his second statement, Franken also said he supports an ethics review and that he would cooperate.
"I respect women. I don't respect men who don't," he wrote. "The fact that my own actions have given people a good reason to doubt that makes me feel ashamed."