Judge declares mistrial in Sen. Bob Menendez corruption case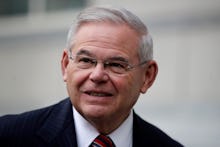 A federal district court judge in New Jersey declared a mistrial Thursday in the corruption case against Sen. Bob Menendez (D-N.J.).
Jurors told Judge William Walls on Thursday they were deadlocked.
Menendez's lawyer, Abbe Lowell, formally requested a mistrial. Walls encouraged the jury to try and find a consensus before he declared the mistrial.
Menendez is accused of accepting millions of dollars worth of bribes from ophthalmologist Salomon Melgen, including trips on his private jet and upscale vacations.
In exchange, Menendez is alleged to have used his influence in the Senate to affect the outcome of Medicare billing disputes worth tens of millions of dollars to Melgren, and to have helped obtain travel visas for several of Melgren's girlfriends.
The implications of Menendez's trial extend far beyond the Garden State. If a guilty verdict had been returned, and Menendez forced out of office, then outgoing Republican Gov. Chris Christie would have been able to appoint his replacement.
Because a mistrial has been declared, Menendez will likely stay in the Senate long enough for the state's newly elected Democratic governor, Phil Murphy, to take office. Murphy would then assume the power to appoint a temporary replacement should Menendez choose to step down after that.