Senators weigh in on Al Franken allegations, Democrats agree with McConnell's call for ethics probe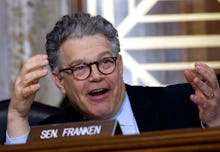 After being accused of committing sexual assault in 2006, at least eight Senate Democrats have said they would support an investigation into Sen. Al Franken (D-Minn.).
On Thursday afternoon, Senate Majority Leader Mitch McConnell (R-Ky.) called for an ethics investigation into Franken's behavior. McConnell was quickly joined by Sen. Chuck Schumer (D-N.Y.), the Democratic leader.
"Sexual harassment is never acceptable and must not be tolerated," Schumer said. "I hope and expect that the ethics committee will fully investigate this troubling incident, as they should with any credible allegation of sexual harassment.
Other senators supporting an investigation include Sens. Kirsten Gillibrand of New York, Claire McCaskill of Missouri, Maggie Hassan of New Hampshire, Dick Durbin of Illinois, Patty Murray of Washington, Tim Kaine of Virginia and Tammy Duckworth of Illinois — all Democrats.
"They are deeply concerning [allegations], and I expect to hear more from Senator Franken," Gillibrand said Thursday, the Hill reported. Murray, the highest-ranking woman in Democratic Senate leadership, said, "This is unacceptable behavior and extremely disappointing."
In a statement on Twitter, Franken himself asked for an ethics investigation.
The calls for an investigation followed after Leann Tweeden, a radio show host for KABC in Los Angeles, wrote that Franken groped her and forced her to kiss him while rehearsing a skit for soldiers in 2006.
This story is breaking and will be updated.