Franken apologizes after being accused of sexual harassment, says he welcomes ethics investigation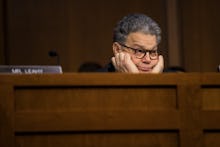 Sen. Al Franken (D-Minn.) apologized to the woman who accused him of sexual harassment and assault, saying he's "ashamed" of his actions and that he will "gladly cooperate" with an Ethics Committee investigation into the matter.
Franken made the comments in a lengthy statement, released after Los Angeles radio show host Leeann Tweeden accused Franken of kissing and groping her without her consent during a United Services Organizations tour in the Middle East in 2006.
"The first thing I want to do is apologize: to Leann, to everyone else who was part of that tour, to everyone who has worked for me, to everyone I represent, and to everyone who counts on me to be an ally and supporter and champion of women," Franken said. "There's more I want to say, but the first and most important thing — and if it's the only thing you care to hear, that's fine — is: I'm sorry."
Franken went on to say that he is "disgusted" with himself for the picture Tweeden released, in which Franken appears to be trying to grab Tweeden's breasts while she's asleep on the flight home.
"I don't know what was in my head when I took that picture, and it doesn't matter," Franken said. "There's no excuse. I look at it now and I feel completely disgusted with myself."
Senate Majority Leader Mitch McConnell called for an Ethics Committee investigation into the Franken matter. And Franken said he supports that investigation.
"I'm asking that an ethics investigation be undertaken, and I will gladly cooperate," Franken said.
He added that women like Tweeden need to be believed.
"I have let them down and am committed to making it up to them," Franken said in the statement, which makes it seem like he has no intention to step aside.
It's unclear what Franken's political fate will be.
A handful of Democratic Senators have already said they believe Tweeden, and support an ethics investigation.
Republican groups, however, are trying to tie other Democrats to Franken as a political attack.
"These allegations are disgusting and Democrats who took Sen. Franken's money need to take action," Matt Gorman, communications director for the National Republican Campaign Committee, which tries to elect Republicans to the House, said in a statement. "Return his donations and do it immediately."
Franken is not the only high-profile political figure to be accused of sexual harassment and assault.
President Donald Trump has been accused of harassment and assault by multiple women, and was even caught on tape bragging about grabbing women "by the pussy" without their consent.
And in Alabama, Republican Roy Moore is facing accusations of child molestation.
National Republicans have sought to distance themselves from Moore, but Republicans in Moore's state are sticking with him.