Leeann Tweeden on Al Franken assault allegations: "I made sure I was never alone with him again."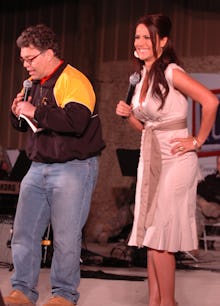 Leeann Tweeden — the Los Angeles sportscaster who alleged that Sen. Al Franken sexually assaulted her more than 10 years ago — elaborated on her accusations Thursday afternoon, saying the Minnesota Democrat "thought he could get away with it."
"I felt like he betrayed my trust," Tweeden said in a press conference Thursday.
Earlier in the day, she wrote a lengthy account of a United Service Organizations trip to entertain troops stationed in the Middle East that she was on with Franken in 2006, before he was a United States senator.
In it, she accused him of "[putting] his hand on the back of my head, [mashing] his lips against mine and aggressively [sticking] his tongue in my mouth" during a rehearsal for a skit they were performing. Later, on the way home from the tour, she said he groped her breasts while she was sleeping — an accusation supported by a photograph of the future senator smiling as he puts his hands on her chest.
She compared Franken's alleged "relentless" efforts to get her to rehearse the kissing scene in the skit he wrote to the disturbing audio recording of Harvey Weinstein attempting to coerce a woman into his hotel room that was made public by the New Yorker in October.
"He just sort of came at me," Tweeden said in a press conference Thursday of the unwanted kiss, recalling his "slimy" lips.
"In my mind, I called him 'fish lips' the rest of the trip," she told reporters. "I was just disgusted."
She said she "sucked it up" and did not report the incident at the time because she did not want to be a "troublemaker."
But, she said, "I made sure I was never alone with him again."
Tweeden said she endured two weeks of "snide" comments and bullying from Franken following the kissing incident, and that she believed he attempted to get "the last laugh" by posing for the photo with his hands on her breasts.
In an initial statement Thursday, Franken said he was attempting "to be funny."
"Nothing like that is ever funny," Tweeden said Thursday afternoon. "Is it funny if he does it to your daughter or your sister or your wife?"
Franken later released a second statement in which he said "there's no excuse" for his actions and that he supports the ethics investigation into him that Senate Majority Leader Mitch McConnell and a number of members of his own party have called for.
"[Women] deserve to know that I am their ally and supporter," Franken said in the statement. "I have let them down and am committed to making it up to them."