That 'Fantastic Beasts: The Crimes of Grindelwald' teaser is resurfacing questions about Johnny Depp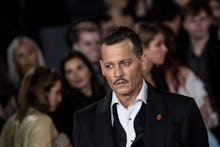 Thursday morning, the official Fantastic Beasts Twitter account released the first promotional material for Fantastic Beasts: The Crimes of Grindelwald, a sequel to 2016's Harry Potter prequel Fantastic Beasts and Where to Find Them. It's not a still image but not quite a trailer either — it's meant to look like one of the moving photographs from the movie's magical world.
And it's raising more than a few eyebrows, mostly because of how prominently the movie looks to feature its titular character — Gellert Grindelwald — who will be played by Johnny Depp.
In 2016, courts granted Amber Heard a restraining order against Johnny Depp due to allegations she made that Depp repeatedly physically and emotionally abused her throughout the course of their now-defunct marriage.
"During the entirety of our relationship, Johnny has been verbally and physically abusive to me," Heard said in the court documents, according to ET Online. "I endured excessive emotional, verbal and physical abuse from Johnny, which has included angry, hostile, humiliating and threatening assaults to me whenever I questioned his authority or disagreed with him."
In June of 2016, iO Tillett Wright, who is friends with Heard, shared an especially chilling account via Refinery29, in which he saw a pillow covered in Heard's blood. Days earlier, People published photos showing Heard with bruising on her face and a swollen, bloody lip.
Heard later rescinded the restraining order when she and Depp announced they had settled their divorce. In a 2016 joint statement with Depp, they said their "relationship was intensely passionate and at times volatile but always bound by love. Neither party has made false accusations for financial gain. There was never any intent of physical or emotional harm."
Heard donated the $7 million from the divorce settlement to a children's hospital and a branch of the ACLU that helps victims of domestic abuse.
Given the current political climate in which powerful figures in the entertainment industry — like Harvey Weinstein, Kevin Spacey, George Takei, Brett Ratner and Louis C.K., among others — are beginning to crumble under the weight of allegations of misconduct, one wonders why Depp has yet to be held to the same standard. This is a sentiment that has been shared in several popular posts on Twitter in the wake of the Crimes of Grindelwald teaser being revealed.
Concerns over Depp's alleged behavior are further amplified by Harry Potter author J.K. Rowling's ties to the franchise, given her reputation for being outspoken on issues of social justice. Just recently, she retweeted a CNN video in which the rapper Drake called out sexual harassment happening at one of his shows. She also recently retweeted a Twitter user who recounted her experience of being repeatedly sexually harassed in her marriage.
When Rowling was asked about the controversy surrounding Depp's casting in 2016, she said she was "delighted" that he was a part of the project.
Warner Bros. did not return a request for comment in time for publication.