Despite consumer beliefs, farmed fish can be sustainable. This frozen food brand wants to prove it.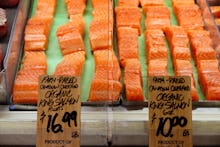 Unattractive slabs of frozen fish chilling in a supermarket freezer aren't nearly as tempting as the vibrant cuts of meat in the butcher's case. But one company is hoping to change consumer misconceptions about frozen fish — and farmed salmon in particular — in order to help Americans make healthier and more sustainable food choices.
Love the Wild, a Boulder, Colorado, company offers sustainably farmed frozen fish paired with sauce packets. The company works directly with sustainable aquaculture farms. To be completely transparent with consumers, Love the Wild prints where each piece of fish comes from directly onto single-serving packages, which retail for at least $8.99 each. While Love the Wild's products have been available in regional Whole Foods in Colorado for over a year now, the fish will be now be available in stores nationwide.
The company has five frozen fish packages, including red trout with salsa verde, striped bass with roasted red pepper almond sauce and barramundi with mango sriracha chutney. Most recently, the company announced that it is partnering with Whole Foods on a DIY frozen salmon dinner package.
Finding farmed salmon that isn't wrecking the environment is an upstream battle. It's not rare for farmed salmon to mix with wild fish due to improper fish pens, fish feed and fish feces can pollute a body of water and fish pens can be overrun with sea lice.
Salmon might be notorious for poor aquaculture practices, but the global demand for it means that many people are working to develop technology to improve farmed salmon, Love the Wild founder Jacqueline Claudia said in a phone interview.
"That's where the most exciting technology is happening in [fishing]," she explained, noting that Love the Wild and Whole Foods are partnering with a respected salmon fish farm in Norway.
Unsustainable fish feed is a huge problem within the industry — when fish are ground up and transformed into fish feed, to be consumed by larger fish like salmon, there's a "net protein loss," Claudia explained. In other words, it takes multiple pounds of fish feed to create a single pound of salmon for human consumption. According to Claudia, fish-free feed made from fermented algae products or insects are being tested in salmon.
"If we can show that people value better fish farming methods, hopefully we can bring the rest of the industry along."
"We're supporting the people who are doing aquaculture the right way. If we can show that people value better fish farming methods, hopefully we can bring the rest of the industry along," Claudia said, explaining that advances in aquaculture on the horizon include technology for selective breeding and genome matching, which are being tested in salmon at other companies.
Frozen fish myths
Contrary to popular belief, wild, fresh fish isn't always best. Freezing a fish can prevent waste, and will not impact nutrition, Epicurious reported. And oftentimes, frozen fish can be shipped by train, boat or truck while fresh fish sometimes need to be flown via plane — a mode of transport that's more costly for the environment.
Consumers can see exactly where the fish in their Love the Wild packages comes from if they look at the back of the box.
But, of course, sustainable fish has to taste good in order for consumers to bite. Claudia says convenience is key.
"When we demo our product, 93 of 100 people just don't give a sh*t if it's farmed or sustainable. They care that it tastes good and it's easy to cook," she said. "A lot of the things that drive me, frankly most consumers don't care that deeply about. That doesn't mean it's not core to our mission."
The company is currently participating in the Chobani Food Incubator Program, in which six food start-ups create change in the food industry.