Latest Kushner revelation once again brings WikiLeaks into spotlight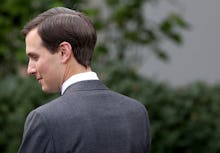 Jared Kushner is coming under scrutiny for failing to provide Senate investigators with an email related to WikiLeaks as part of the Judiciary Committee's Russia probe, according to reports Thursday.
Kushner — President Donald Trump's son-in-law and senior adviser — did not disclose a document he was forwarded about a "backdoor overture" from the Kremlin, along with a September 2016 email about WikiLeaks and communications with a Russian-American businessman.
The messages seem to have come to light because other witnesses provided the documents to investigators, who found Kushner copied on them, according to the reports.
Investigators examine Trump contacts with WikiLeaks
The news that Kushner failed to provide investigators with an email related to WikiLeaks comes days after it was revealed that Donald Trump Jr. — the president's eldest son — exchanged Twitter messages with the organization that he did not disclose.
Sen. Chuck Grassley (R-Iowa), chairman of the Senate Judiciary Committee, on Tuesday called Trump Jr.'s back-and-forth with WikiLeaks "innocuous."
But Rep. Ted Lieu (D-Calif.), who serves on the House Judiciary Committee, said in a phone interview with Mic Wednesday that the communications appeared to be anything but.
"It's widely known in the United States intelligence community that the Russians use WikiLeaks to weaponize information," he said.
Trump Jr. apparently responded just three times to the organization's notes, according to messages he released on Twitter this week. But he and his father may have acted on WikiLeaks' suggestions on a couple occasions, suggesting coordination — or at least an openness to coordinate — with the group.
It wasn't the only WikiLeaks controversy to hit the Trump campaign.
In 2016, Trump ally Roger Stone bragged in a since-deleted tweet that he had a "back channel" to WikiLeaks founder Julian Assange. In October, it was reported that Alexander Nix — the campaign's data chief — attempted in 2016 to team up with Assange to obtain Democrat Hillary Clinton's missing emails.
WikiLeaks released damaging leaks about Clinton and the Democrats during last year's presidential race and is considered by U.S. intelligence to be a "non-state hostile intelligence service often abetted by state actors like Russia," according to CIA director Mike Pompeo.
In a letter on Thursday, Grassley and Sen. Dianne Feinstein (D-Calif.), ranking member of the Senate Judiciary Committee, requested more information from Kushner's lawyer on his missing documents, as well as his communications with former national security adviser Michael Flynn.
The senators gave Kushner until Nov. 27 to produce the missing documents.