Trump's attack on Franken ends up reminding country of his "grab them by the pussy" tape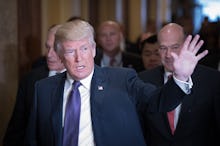 President Donald Trump chose to weigh in on the groping allegations against Sen. Al Franken (D-Minn.) late Thursday night, saying they were "really bad" and spoke "a thousand words."
"The Al Frankenstien picture is really bad, speaks a thousand words," Trump tweeted, creating a new nickname for Franken. "Where do his hands go in pictures 2, 3, 4, 5 & 6 while she sleeps?"
"And to think that just last week he was lecturing anyone who would listen about sexual harassment and respect for women," Trump continued. "Lesley Stahl tape?"
Yet Trump's attack on Franken had the unintended consequence of reminding the country of the multiple sexual harassment allegations leveled against him during the 2016 presidential campaign as well as the infamous Access Hollywood tape that shows Trump bragging about grabbing women "by the pussy."
"From the man caught on tape boasting about grabbing pussy, this is quite something," the BBC's Katty Kay tweeted.
In the tape — which surfaced a few weeks before the 2016 election — Trump brags about trying to make a move on former Access Hollywood host Nancy O'Dell.
"I moved on her very heavily," Trump says of O'Dell, adding, "I moved on her like a bitch, but I couldn't get there. And she was married. Then all of a sudden I see her, she's now got the big phony tits and everything. She's totally changed her look."
Later in the tape, Trump sees a young woman and talks about how he kisses and gropes women without their consent.
"I better use some Tic Tacs just in case I start kissing her," Trump says in the tape. "You know, I'm automatically attracted to beautiful — I just start kissing them. It's like a magnet. Just kiss. I don't even wait. And when you're a star, they let you do it. You can do anything."
He goes on to say that "anything" includes being able to, "Grab them by the pussy."
Not only did Trump's tweet remind the country of the Access Hollywood tape, but it also served as a reminder that a dozen women have accused Trump of sexual harassment.
Trump has called the women liars, threatened to sue them and even suggested they were not attractive enough for him to have groped or assaulted.
Trump never apologized for the Access Hollywood tape and instead brushed it off as "locker room talk."
And the White House still contends that the women who accused Trump of sexual assault are all liars.
Senate Republicans and staffers in Trump's White House seemed to understand that wading into the Franken allegations would serve as a reminder of the infamous pussy-grabbing tape as well as Trump's alleged behavior.
That's why Senate Majority Leader Mitch McConnell took the measured approach of calling for an investigation rather than for Franken's resignation. It's also why White House press secretary Sarah Huckabee Sanders steered clear of criticizing Franken and said that McConnell's call for an investigation was appropriate.
"On Senator Franken, it appears that the Senate is looking into that, which they should," Sanders said at Thursday's press briefing. "And we feel that's an appropriate action."
Yet Trump, it seems, just couldn't help himself.
He chose to weigh in on Franken, yet not Republican Roy Moore — the Alabama Senate candidate who is accused of child molestation.
And in the process Trump brought upon himself a negative news cycle focused on his own actions.
"Who's up for a weeklong media recap of all the sexual harassment/assault allegations against Trump? Because that's what Trump just opened up," conservative pundit Ben Shapiro tweeted.