Stefano Gabbana of Dolce & Gabbana claims sexual harassment is "not violence"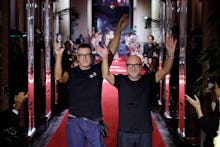 One of the designers behind Dolce & Gabbana — Stefano Gabbana, who's been fond of making questionable comments on everything from Melania Trump to same-sex marriage — now has something to say about sexual harassment. Oh goodie.
In an interview with Vogue U.K., the designer claims that sexual harassment is not new, which is indeed correct, and it is not violence. According to the designer, who earlier this year created a T-shirt and and promotion video mocking those boycotting the brand, it's more like sex, which he calls a trend.
"It's not new!" Gabbana said. "Luchino Visconti asked Helmut Berger and Alain Delon to go in the bed… But listen, you decide. It's true. Everybody knows. After 20 years you say, 'Ah! He touched my ass!' It's not violence, this. Who doesn't do sex? Who doesn't? It's a trend. Now the trend is sex. But sex is an old story. We are Italian. We came from the Roman Empire. We know very well."
In the same interview, he also said: "For me, political correctness is fake, because you don't have the power to explain what you really think."
Certainly a man who loves the drama, Gabbana has spent the past several months actively taking on commenters on his Instagram who take offense to his pride in continuously dressing Melania Trump. In response to comments like "You have lost a follower," Gabbana's been known to comment back "I don't care!! Really" and "Bye bye."
In the Vogue U.K. interview, he said that he doesn't care about American politics, however. "I'm not American, I'm Italian," he said. "I really don't care about American politics. You do what you want. I'm a designer! She's a customer. She was before she became first lady. In the game of newspapers and TV, everything is business. If you make it interesting you can talk about it."
So anyway, it'll be really great to see what he says in response to the controversy this statement is already bringing.