Transgender Day of Remembrance: There are likely more victims than we know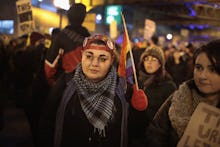 2017, which has not yet come to a close, has proven to be another deadly year for transgender people in America. According to advocacy group GLAAD, as well as Mic's own count, 23 trans people have been killed since Jan. 1.
Other organizations have slightly different numbers depending on the parameters of inclusion — some, for example, include Scout Schultz, a nonbinary student who was shot and killed by campus police at the Georgia Institute of Technology in September.
The number of reported killings of trans people is almost certainly far lower than the real number, however, and with Transgender Day of Remembrance on Monday, advocates say it's crucial to acknowledge both the names of known victims and those whose trans identities have been obscured in death.
Trans homicides are underreported
There are several reasons trans deaths remain underreported, Arielle Gordon, a trans activist, student and GLAAD intern, said in an email interview Friday. One issue, Gordon said, is that many trans people aren't out, so reporters who write about their deaths may not know they're trans. Even victims who were out as trans are often misgendered or "deadnamed" — meaning they're referred to by their birth names or former names — in initial reports about their deaths.
"Also, because trans people are disproportionately affected by homelessness and lack of familial support, they may fall off the radar and there may be no one to disclose their transgender status to reporters after their deaths," Gordon said.
There's another issue at play, too. "There's still no 'transgender' option on the U.S. Census, so [we] don't have a clear national image of how many trans people live here and where they are," Gordon added.
What puts trans people at risk?
According to GLAAD, which both tracks trans homicides across the U.S. and works with the media to report on those deaths more responsibly and accurately, 95% of trans people killed in the U.S. are trans women of color.
"Trans women of color, year after year, face the highest rates of violence because they face three intersecting forms of oppression: racism, sexism and transphobia," Gordon said. "Individuals in this group are also more likely to deal with homelessness. Individually, each of these factors increases an individual's risk of facing violence — together, they make a deadly combination."
According to a report released Friday by the Human Rights Campaign and the Trans People of Color Coalition, violence against trans people is compounded by other "systemic barriers" they face in their day-to-day lives.
"Especially in states and areas where anti-discrimination laws do not exist or are simply not enforced," the most vulnerable trans people "may be unable to find gainful employment, obtain stable housing or access health care services," the report said.
The report cites research from the National Center for Transgender Equality that found 25% of trans people said they "avoided medical care in the past year out of fear of being disrespected or mistreated."
Trans people often face similar barriers when seeking help from law enforcement and other service providers "because they fear harassment, intimidation or incarceration — even when they themselves are victims of crime."
Then there are what the HRC report terms "attacks from above," or anti-trans discrimination in the form of biased legislation. Such policies exist both at the federal level, like President Donald Trump's embattled ban on trans people serving in the military, and the local level, like the several states that have attempted to deny trans people the right to use bathrooms that match their gender identity.
According to Gordon, these anti-trans policies create a culture of violence. "As the current administration becomes increasingly vocal about their anti-LGBTQ views, supporters feel increasingly justified in committing acts of anti-trans violence," she said.
Advocacy organizations point to several actions that may help to better protect trans rights. For its part, the HRC report suggests self-education, enhancing law enforcement response and training, fighting anti-trans legislation, working to make schools safer for trans students and expanding health care coverage for trans people as ways to insulate the trans community from violence and injustice.
And then there's the task of honoring the trans lives lost over the past year — which Monday's annual observance serves to do. And, as Gordon said Friday, that includes both known and unknown victims.
"The point of [Transgender Day of Remembrance] is to remember the lives that were lost this year in acts of anti-trans violence," she said. "We do our best to find out about everyone who's died, but we know that realistically, we haven't. The transgender victims that we don't find out about still deserve to be honored at TDOR vigils, even if we are sadly unable to honor a number of them by name."