A running list of all the disasters plaguing the 2017 Victoria's Secret Fashion Show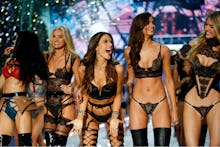 We've got some bad news. The 2017 Victoria's Secret Fashion Show is, well, kind of falling apart.
As the show gets closer to filming in Shanghai, China, this year, shit is continuously hitting the fan, with models unable get appropriate visas to enter the country, and even pop stars who are set to perform getting sent away.
So we've decided that we better start compiling a running list of the issues and potential disasters already plaguing the annual celebration of VS lingerie.
1. Models can't enter the country.
Some models from Russia and Ukraine, who were set to walk the VS runway, have reportedly been denied Chinese visas, so now they can't walk the runway.
There is still no clear reason why the models — Julia Belyakova, Kate Grigorieva, Irina Sharipova and Dasha Khlystun — had the visa issue.
2. The media is already having a very hard time covering the show.
Similarly, media outlets and bloggers have had issues attaining visas too, according to Page Six. And already on the ground there, TV producers are at odds with Chinese bureaucrats in regards to even filming in China at all, outside of the arena where the VS show is taking place.
Additionally, Victoria's Secret staff is reportedly having issues with press releases, because those have to be approved by government officials.
3. Gigi Hadid isn't coming.
On Thursday, news broke that Gigi Hadid, arguably the most popular model set to walk in the show this year (Kendall Jenner isn't walking), was pulling out of the show.
"I'm so bummed I won't be able to make it to China this year," she wrote on Twitter. "Love my VS family, and will be with all my girls in spirit!! Can't wait to tune in with everyone to see the beautiful show I know it will be, and already can't wait for next year!"
Prior to this announcement, there was talk of people calling for Hadid to not walk in the show because of an offensive video of her that her sister, Bella Hadid, posted to social media earlier in 2017.
Hadid has yet to give an explanation for not walking herself, but her sister is walking this year.
4. Katy Perry isn't coming either.
Another, usually less noteworthy moment during the VS Fashion Show are the performances, but according to Page Six, one of the night's big performers has been banned from the country.
Katy Perry, running into the visa problems plaguing lots of others, has now been banned indefinitely from China. There's rumors that the decision stems from Perry, who performed at the 2010 VS Fashion Show, performing in Taiwan in 2015 wearing a dress covered in sunflowers, which were coopted by anti-China protesters. She also waved a Taiwanese flag. Per Page Six, Chinese officials are known to comb through the history of performers, looking out for offensive or anti-Chinese sentiments.
So now we're still unsure of who is going to be the performer at the 2017 VS Fashion Show, which is set to air on Nov. 28.
Correction: Nov. 21, 2017