Here are all the times President Donald Trump has been accused of sexual assault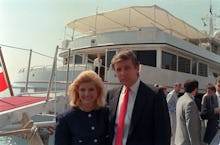 President Donald Trump took to Twitter on Thursday to respond to an allegation of sexual assault against Sen. Al Franken, calling a picture of him inappropriately touching Los Angeles radio show host Leeann Tweeden "really bad" and saying it "speaks a thousand words."
"Where do his hands go in pictures 2, 3, 4, 5 & 6 while she sleeps?" Trump wrote on Twitter, adding in a later tweet: "And to think that just last week he was lecturing anyone who would listen about sexual harassment and respect for women."
In his effort to call out Franken for his actions and hypocrisy, however, Trump was committing a hypocritical act of his own: ignoring the mountain of sexual assault allegations against himself.
A year before accusations regarding producer Harvey Weinstein led to a flood of allegations against powerful men, at least 17 women stepped forward during the 2016 election to speak on the record about their own alleged experiences of being sexually assaulted by Trump.
Trump himself admitted to his sexually inappropriate behavior on an Access Hollywood tape that surfaced in October 2016, in which he bragged about "[grabbing women] by the pussy."
"I better use some Tic Tacs just in case I start kissing her. You know I'm automatically attracted to beautiful — I just start kissing them. It's like a magnet. Just kiss. I don't even wait. And when you're a star they let you do it. You can do anything," Trump was recorded saying.
Though numerous women have accused Trump of such inappropriate behavior, the president has decried his accusers as "horrible, horrible liars" and called their accounts "pure fiction."
One of his accusers, Summer Zervos, is now bringing a defamation lawsuit against Trump for his comments. If the case advances, it could lead to several of Trump's accusers speaking out against him in court, the New York Times reported, giving the women the chance to have their stories heard once again after being "brushed under the rug" following Trump's election.
"You do wonder, how can the country forget about us?" one of Trump's accusers, Rachel Crooks, told the Times.
Here are the women who have gone on the record accusing Trump of sexual assault and sexually violating behavior.
Natasha Stoynoff
People journalist Natasha Stoynoff wrote a first-hand account of her alleged inappropriate encounter with Trump during a 2005 interview at Mar-a-Lago.
"I turned around, and within seconds he was pushing me against the wall and forcing his tongue down my throat," Stoynoff wrote, later adding, "It didn't seem to register to him in the slightest that what he'd done might have hurt or offended me, or his wife."
Jill Harth
Makeup artist Jill Harth accused Trump of "attempted rape" in 1993 at Mar-a-Lago in his daughter's bedroom.
"He pushed me up against the wall, and had his hands all over me and tried to get up my dress again, and I had to physically say: 'What are you doing? Stop it,'" Harth told the Guardian in October 2016.
In 1997, Harth filed a lawsuit against Trump for his behavior, which was later dropped.
Jessica Leeds
Jessica Leeds was allegedly groped by Trump while sitting next to him on a flight to New York in the 1980s, when Leeds was a traveling businesswoman for a paper company. According to Leeds' account, which was published in the New York Times, Trump grabbed her breasts and attempted to put his hand up her skirt.
"He was like an octopus," Leeds told the New York Times. "His hands were everywhere."
In a recent interview with Slate about her decision to come forward with her story, Leeds said: "I'm truly sorry that I didn't make more of an impact, that we all didn't make more of an impact. But as the man says himself, he could stand on Fifth Avenue and shoot somebody and his supporters wouldn't care."
Ivana Trump
Trump's ex-wife Ivana Trump had her own accusations against Donald Trump. According to the 1993 book Lost Tycoon by Harry Hurt III, Ivana Trump alleged during a divorce deposition that Donald Trump had "raped" her and yanked out a handful of her hair.
Ivana Trump walked back the accusation in a statement published in the front of the book, the New York Times noted, and said more recently that the story was "totally without merit."
"During a deposition given by me in connection with my matrimonial case, I stated that my husband had raped me," Ivana Trump's initial statement said. "I referred to this as a 'rape,' but I do not want my words to be interpreted in a literal or criminal sense."
"Jane Doe"
An anonymous woman filed a lawsuit against Trump in 2016 alleging that the then-candidate, along with billionaire Jeffrey Epstein, had "forcibly raped" her in 1994, when the woman was 13 years old.
According to the lawsuit, which was dropped days before the 2016 election, Trump had allegedly "initiated sexual contact" with the victim at four different parties. At the fourth, the lawsuit alleged, Trump tied her to the bed and "forcibly raped" the woman in a "savage sexual attack."
"Immediately following this rape, Defendant Trump threatened Plaintiff that, were she ever to reveal any of the details of the sexual and physical abuse of her by Defendant Trump, Plaintiff and her family would be physically harmed if not killed," the lawsuit alleged.
Ninni Laaksonen
Former Miss Finland Ninni Laksonen accused Trump of groping her in 2006, before her and other Miss Universe contestants made an appearance on the Late Show With David Letterman.
"Before the show we were photographed outside the building," Laaksonen told Finnish newspaper Ilta-Sanomat, as translated by the Telegraph. "Trump stood right next to me and suddenly he squeezed my butt. He really grabbed my butt."
"I don't think anybody saw it but I flinched and thought: 'What is happening?'" Laaksonen added.
Rachel Crooks
In an account to the New York Times, Rachel Crooks alleged that Trump kissed her without consent when she was a 22-year-old receptionist at a real estate company in Trump Tower.
Crooks introduced herself to Trump outside an elevator in the building in 2005, she recounted, and Trump allegedly moved from shaking her hand to kissing her cheeks. He then "kissed [her] on the mouth," Crooks said.
"It was so inappropriate," Crooks told the Times. "I was so upset that he thought I was so insignificant that he could do that."
Cathy Heller
Cathy Heller told the Guardian Trump kissed her without consent during a Mother's Day brunch at Mar-a-Lago in 1997.
"He took my hand, and grabbed me, and went for the lips," Heller said, recounting that after she leaned away from Trump, "he said, 'Oh, come on.'"
"He was strong. And he grabbed me and went for my mouth and went for my lips," Heller said, adding that she turned her head so Trump kissed the side of her mouth "for a little too long."
"I was angry and shaken," Heller continued, saying that Trump seemed to feel "entitled" to kiss her. "He was pissed. He couldn't believe a woman would pass up the opportunity."
Friend of Erin Burnett
In October 2016, CNN anchor Erin Burnett described on air an incident that took place in 2010 between an unnamed friend of hers and Trump, after the Access Hollywood tape was released.
"The Tic Tacs," Burnett quoted her friend as saying, referring to Trump's Tic Tac comment on the Access Hollywood tape. "That's exactly what Trump did to me. Trump took Tic Tacs, suggested I take them also. He then leaned in ... catching me off guard and kissed me almost on the lips. I was really freaked out."
After kissing her nonconsensually, Burnett's friend added: "Trump asked me to come into his office alone. I figured I could handle myself. Anyway, once in his office he kept telling me how special I am and gave me his cell phone and asked me to call him. I ran the hell out of there."
Mindy McGillivray
Mindy McGillivray gave an account to the Palm Beach Post alleging that Trump had groped her during an event at Mar-a-Lago in 2003, where she was assisting the event photographer.
"All of a sudden I felt a grab, a little nudge. I think it's [the photographer's] camera bag, that was my first instinct. I turn around and there's Donald. He sort of looked away quickly. I quickly turned back, facing Ray Charles, and I'm stunned," McGillivray recounted to the Palm Beach Post.
"This was a pretty good nudge. More of a grab,'' McGillivray said when asked if the touch could have been accidental. "It was pretty close to the center of my butt. I was startled. I jumped.''
Summer Zervos
During a press conference with women's rights attorney Gloria Allred in October 2016, former Apprentice contestant Summer Zervos alleged that Trump had made inappropriate advances on her when she reached out to him in hopes of working for the Trump Organization in 2007.
According to Zervos' account, as recounted by Politico, Trump kissed her multiple times without consent during a business meeting in New York, before inviting her to meet with him again in Los Angeles. There, Trump reportedly made sexual advances on her, kissing her, touching her breast and "thrusting his genitals." Zervos believes she was then denied a position at Trump's company because she rebuffed his advances.
"Mr. Trump, today I feel that you were interested in me only because you wanted to have a sexual relationship with me and for no other reason," Zervos said during the press conference, as quoted by Politico. "After hearing the released audio tapes and your denials during the debate, I feel that I have to speak out about your behavior. You do not have the right to treat women as sexual objects just because you are a star."
Kristin Anderson
In an account to the Washington Post, Kristin Anderson alleged that Trump had touched her inappropriately when the two were next to each other in a crowded New York nightclub in the early 1990s, prior to Trump's second marriage to Marla Maples.
According to Anderson, Trump "slid under her miniskirt, moved up her inner thigh and touched her vagina through her underwear," when Anderson then shoved his hand away.
"It wasn't a sexual come-on. I don't know why he did it. It was like just to prove that he could do it and nothing would happen," Anderson told the Washington Post. "There was zero conversation. We didn't even really look at each other. It was very random, very nonchalant on his part."
Jessica Drake
During a news conference in Los Angeles with Allred, adult film performer and director Jessica Drake that Trump had grabbed and kissed her and two other women without their consent in 2006.
Drake was then reportedly invited to join Trump in his room alone by one of his representatives. After she declined, she was allegedly offered $10,000 and use of his private jet if she accepted, she recounted.
"I realize that in this situation I may be but a tiny grain of sand, but clearly this is an enormous beach," Drake said about her desire to come forward with her story, according to CNN.
Lisa Boyne
Though health food entrepreneur Lisa Boyne wasn't assaulted herself by Trump, she recounted witnessing the now-president openly looking under women's skirts during a dinner in the mid-1990s.
During the incident, Boyne recounted to the Huffington Post, Trump reportedly insisted that women "walk across the table" Trump and his group were sitting at, "allowing him to peer up their skirts while they did so." According to Boyne, Trump "stuck his head right underneath their skirts," and would comment on whether or not the women were wearing underwear and what their genitalia looked like.
"I find it hard to believe that he's changed," Boyne told the Huffington Post. "That was who he was. He was somebody who was interested in women as sex objects and their only merit was their beauty."
Karena Virginia
During a press conference with Allred, yoga instructor and lifestyle coach Karena Virginia accused Trump of assaulting her while she was waiting for a car service to pick her up at the U.S. Open Tennis Championships in 1998.
"I knew who he was, but I had never met him. He was with a few other men," Virginia said at the press conference, as quoted by NBC News. "I was quite surprised when I overheard him talking to the other men about me. He said, 'Hey, look at this one, we haven't seen her before. Look at those legs.' As though I was an object, rather than a person."
"He then walked up to me and reached his right arm and grabbed my right arm, then his hand touched the right inside of my breast. I was in shock. I flinched," she continued, recounting that Trump then reportedly asked, "Don't you know who I am? Don't you know who I am?"
Temple Taggart
In an account to the New York Times, former Miss Utah USA Temple Taggart recounted Trump forcing himself on her when they were first introduced in 1997, the first year that Trump served as the owner of the Miss USA pageant.
"He kissed me directly on the lips. I thought, 'Oh my God, gross.' He was married to Marla Maples at the time," Taggart told the Times. "I think there were a few other girls that he kissed on the mouth. I was like 'Wow, that's inappropriate.'"
After the show, Taggart said that Trump then kissed her without consent again and invited her to New York to talk about a potential modeling career, encouraging her to lie about her age.
"'We're going to have to tell them you're 17,'" Taggart recalled Trump as saying to the Times, "because in his mind, 21 is too old. I was like, 'No, we're not going to do that.'"
Cassandra Searles
In a Facebook post from June 2016, former Miss Washington USA Cassandra Searles decried Trump for treating the beauty pageant contestants "like cattle" when she competed in 2013.
"Do y'all remember that one time we had to do our onstage introductions, but this one guy treated us like cattle and made us do it again because we didn't look him in the eyes? Do you also remember when he then proceeded to have us lined up so he could get a closer look at his property?" Searles wrote, tagging her fellow Miss USA contestants. "Oh I forgot to mention that guy will be in the running to become the next president of the United States."
Yahoo News reported that Searles then accused Trump of assault, writing: "He probably doesn't want me telling the story about that time he continually grabbed my ass and invited me to his hotel room."
Other beauty pageant contestants
In addition to the two instances of nonconsensual touching and kissing described by Taggart and Searles, Trump was reportedly well-known for his sexually violating behavior around contestants of the beauty pageants he owned.
Trump's practice of lining the contestants up for his own approval, described by Searles, also reported by several other former competitors; according to the Nation, former Miss North Carolina Samantha Holvey accused Trump of ordering such a lineup in 2006, saying that he would step "in front of each girl and look you over from head to toe like we were just meat, we were just sexual objects, that we were not people."
In her memoir Still Standing, former Miss California Carrie Prejean, who competed in the Miss USA pageant in 2009, recalled Trump demanding that the contestants put on their revealing opening number outfits and "line up for him onstage."
"Donald Trump walked out with his entourage and inspected us closer than any general ever inspected a platoon. He would stop in front of a girl, look her up and down, and say, 'Hmmm.' Then he would go on and do the same thing to the next girl. He took notes on a little pad as he went along," Prejean wrote, as quoted by the New York Times.
"It became clear that the point of the whole exercise was for him to divide the room between girls he personally found attractive and those he did not. Many of the girls found the exercise humiliating," Prejean added.
In addition to his lineup practice, several competitors have also accused Trump of walking into their dressing rooms when the female contestants were in a state of undress. Former Miss Arizona USA Tasha Dixon accused Trump of walking in on her and another contestant in their dressing room when they were both naked in 2001, a practice that she said was reportedly common for the now-president.
"He just came strolling right in," Dixon said about Trump's dressing room visits. "There was no second to put a robe on or any sort of clothing or anything. Some girls were topless.
"We were naked or half naked in a very physically vulnerable position," Dixon added.
In a report to Buzzfeed News, five women who competed in the Miss Teen USA pageant in 1997 — in which the contestants range in age from 14 to 19 — alleged that Trump walked into their dressing room while they were changing.
Trump confirmed his dressing room habits in a 2005 interview with Howard Stern, CNN reported.
"Well, I'll tell you the funniest is that before a show, I'll go backstage and everyone's getting dressed, and everything else, and you know, no men are anywhere, and I'm allowed to go in because I'm the owner of the pageant and therefore I'm inspecting it," Trump said, as quoted by CNN. "You know, I'm inspecting because I want to make sure that everything is good. You know, the dresses. 'Is everyone okay?' You know, they're standing there with no clothes. 'Is everybody okay?'
"And you see these incredible looking women, and so, I sort of get away with things like that," Trump continued.