While You Weren't Looking: 5 things the Trump administration did this week that didn't involve sex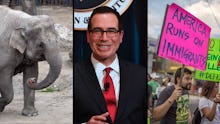 This week's news was rocked by a wave of new sexual misconduct allegations, starting with previously accused child molester and Alabama Senate candidate Roy Moore and followed by Sen. Al Franken (D-Minn.), whom radio host Leeann Tweeden accused of sexually assaulting and harassing her in 2006.
These stories have dominated the news cycle as of late, and for good reason. But as these revelations continue to be revealed, the Trump administration continues to make major policy decisions that affect people's daily lives.
Here's what you may have missed.
Trump ends ban on importing dead elephant heads from Africa
The Trump administration is lifting the ban on importing so-called "trophies" of elephants killed in the nations of Zimbabwe and Zambia.
The U.S. Fish and Wildlife Service is reversing an Obama-era rule prohibiting hunters from bringing said trophies back to the U.S. on the grounds that "legal, well-regulated sport hunting as part of a sound management program can benefit the conservation of certain species by providing incentives to local communities to conserve the species and by putting much-needed revenue back into conservation."
The Guardian reported that a quietly published set of FWS guidelines indicate a decision to lift a similar ban on lion trophies is imminent.
(Update: On Friday night, Trump tweeted that he was putting his decision "on hold" until he had a chance to "review all conservation facts.")
ICE detains a 20-year-old DACA recipient with a disability
The Huffington Post reported Monday that U.S. Immigration and Customs Enforcement has detained a 20-year-old, disabled recipient of the Deferred Action for Childhood Arrivals program.
Despite having protected status under DACA and no criminal record, according to HuffPo, Felipe Abonza-Lopez — who uses a prosthetic leg — was picked up while traveling by car with some undocumented family members in what Customs and Border Patrol said is part of a "human smuggling investigation."
Abonza-Lopez is now being detained in the South Texas Detention Complex in Pearsall, Texas, where he says guards mocked his disability by telling a medical worker they could "put a broomstick in his leg and he can use [it to] sweep."
USCIS reverses DACA renewal decision, reconsiders some rejected applicants
After a wave of reporting about the Trump administration's unfair handling of an October deadline for DACA renewal requests, U.S. Citizenship and Immigration Services has decided to reconsider hundreds of applications.
In September, the Trump administration announced it would be sunsetting the DACA program in March, pending a legislative solution from Congress, and gave current DACA participants until Oct. 5 to renew their status.
Recently, multiple news outlets reported on USCIS' rejection of DACA renewal applications for having been submitted past the deadline due to a delay in mail service. In other cases, applications had arrived in a USCIS mailbox on Oct. 5. but weren't "picked up by a courier service until the next day," according to Vox.
Homeland Security official resigns over racist, Islamophobic comments
Rev. Jamie Johnson, Trump's head of the Department of Homeland Security's Center for Faith-Based & Neighborhood Partnerships, has resigned after the reveal of racist and Islamophobic comments he made during his years as a radio host.
"It's an indictment of America's black community that has turned America's major cities into slums because of laziness, drug use and sexual promiscuity," Johnson said in a 2008 radio appearance first uncovered by CNN, explaining why he believed African-Americans were supposedly resentful of other minority groups.
Johnson also said "oil and dead bodies" were the only contributions Islam had made to society.
Treasury directs regulators to focus on risky practices, not firms
The Treasury Department has instructed regulators to ignore their duties to police nonbank financial firms in favor of focusing on risky behavior.
The Financial Stability Oversight Council, a body of regulators created under the Obama-era Dodd–Frank Wall Street Reform and Consumer Protection Act, is supposed to identify so-called "structurally important financial institutions" to determine which firms need additional oversight. The council was created with the intention of curbing the problem of "too big to fail" financial behemoths.
But Treasury Secretary Steve Mnuchin essentially told FSOC regulators that size doesn't matter, and that they should instead focus only on firms engaging in risky practices.
The move was seen as a victory for nonbank financial institutions who were subject to additional oversight because of their size.
Nov. 18, 2017, 2:06 p.m.: This story has been updated.