Vox Media becomes the latest digital media outlet to seek unionization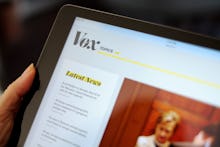 Staffers of the digital media company Vox Media announced Friday that they intend to unionize with the Writers Guild of America East, the latest unionization effort at digital media outlet as the industry shows more signs of trouble.
"By organizing, we intend to protect the nimble culture and inclusive, forward-thinking values that make this company great, and to ensure all concerns and challenges can be addressed by a collective voice," the Vox Union said in a statement about the effort. "An empowered team is an ambitious team, and the greater transparency and collaboration offered by a union will allow us to thrive and take risks in an ever-changing industry."
The employees of the company seek to unionize staffers across Vox Media's titles, which include Vox, Recode, the Verge, SBNation, Polygon, Racked, Eater and Curbed.
According to Business Insider, which first reported the news, staffers informed management Friday of their decision to unionize. It's unclear whether Vox Media management will voluntarily recognize the union or attempt to discourage the union's formation.
A spokesperson for Vox Media did not immediately respond to a request for comment.
Vox Media is the latest in a slew of digital media outlets that have sought to unionize in the last several years as digital media businesses continue to face industry-wide challenges. Sites like HuffPost, Vice Media, the Guardian, ThinkProgress and the Intercept have all voted to unionize their newsrooms. Many of those sites, though not all of them, have opted to unionize with the Writers Guild.
Los Angeles Times staffers announced in October that newsroom staffers intended to unionize with the News Guild, which represents staffers at news organizations like the New York Times, the Associated Press and the Guardian. Tronc, the parent company of the Los Angeles Times, has so far tried to discourage the unionization effort.
This month, the billionaire owner of the news sites DNAinfo and Gothamist, Joe Ricketts, shut down the sites completely in retaliation for the staff unionizing with the Writers Guild. The Writers Guild helped the laid-off staffers secure three months of full pay and benefits, as well as an additional four weeks of severance pay.