A Democratic "wave" election is brewing, top election analysts say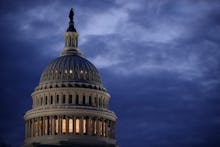 A political wave is forming that could sweep Democrats into power in the 2018 midterm elections, according to the Cook Political Report, a nonpartisan newsletter that analyzes elections and campaigns.
After Democratic victories in Virginia and New Jersey on Nov. 7 — as well as multiple polls that show voters, by a wide margin, want Democrats controlling Congress in 2018 — the Cook Political Report said Democrats have the wind in their sails as the midterm elections approach.
"If it wasn't already clear, last Tuesday's election results confirmed a political atmosphere that would seriously endanger the House GOP's majority in 2018," Dave Wasserman, house editor for the Cook Political Report, wrote in an article Friday.
According to the report, there are currently 47 competitive races, 38 of which are currently held by Republicans, up for election in 2018. And of those 38 competitive Republican-held seats, 17 are now rated a toss-up.
Democrats currently need to pick up 24 seats to win a House majority.
The Cook Political Report pointed to the "generic congressional ballot" — which asks voters which party they want to control Congress after the next election — as indicative of a Democratic wave.
Two recent polls showed Democrats with 13- and 15-point advantages on the generic congressional ballot. That's more than the eight-point advantage Wasserman said Democrats need to win the House.
Of course, there are caveats.
Gerrymandering could thwart Democrats' chances at winning enough seats for a majority. Similarly, the election is still a year away, and it's possible the environment could become better for Republicans.
However, Amy Walter, Cook Political Report's national editor, said the current climate points to an environment favorable for Democrats.
"Do not ignore what's right in front of us," Walter wrote. "A wave is building. If I were a Republican running for Congress, I'd be taking that more seriously than ever."