The RompHim creators introduce the RompSuit or, you know, a jumpsuit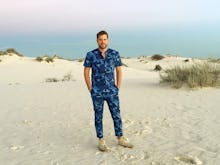 The creators of the loved and loathed RompHim are introducing a new garment for the internet to debate: the RompSuit.
Like the RompHim was a romper, the RompSuit is a jumpsuit, with long pants.
"We've designed the RompSuit from a similar spirit as the RompHim — taking a garment that until now has been largely restricted to the runway and/or dark color palettes and making it more fun and accessible," Daniel Webster-Clark, the chief marketing officer of ACED Design, which created RompHim, said in an email. "By combining bright colors and prints with a comfortable, stylish, tapered fit, we're bringing our bold, fresh spirit to the garment."
The creators aren't trying to act like they're creating the jumpsuit here. They're just adding a little bit of flair and refinement.
"We're obviously not inventing the jumpsuit here — men and women have been wearing them for ages," Webster-Clark said. "But we do think a space exists to bring the jumpsuit to a new generation and add another fun, experimental piece to men's wardrobes."
The Kickstarter for the RompSuit debuts Monday, and compared to the RompHim, the creators are keeping it more size inclusive, too.
"Our preconceived notion was that the menswear market was mainly centered around smaller/thinner body types; when we first launched in May and could only afford to develop four sizes, we didn't even have a size XL," Webster-Clark said. "But we received a flood of emails and [direct messages] that let us know we were off the mark there. We quickly added a size XL to our RompHim run, and for this launch, we're proud to offer an XXL size as well. We've also continued to expand our fabrics to give people more options, and two of the three RompSuit styles will launch with stretch fabrics."
The fabrics for the RompSuits thus far are a bit tamer than the wild, tropical prints and patterns you saw with the RompHim launch. There's an olive one, a blue camouflage and a salmon with periwinkle trim, with more prints expected to launch down the line.
"Our favorite part of the RompHim launch has been the wide range of people — across body types, geographies, ages, interests, genders, etc. — who love wearing it," Webster-Clark said. "As long as people are owning their style and are confident doing it, then we feel like we've been successful. So for now it's rompers and jumpsuits, but we'll continue to push the boundaries in men's fashion."
If you order with the Kickstarter, you can expect to get your RompSuit in February 2018. The world should prepare.