Leeann Tweeden reads Al Franken's apology live on 'The View'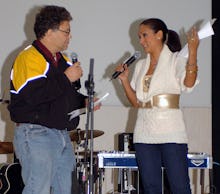 One day after publicly accusing Sen. Al Franken (D-Minn.) of forcibly kissing and groping her during a United Service Organizations tour in 2006, Leeann Tweeden, morning news anchor on TalkRadio 790 KABC in Los Angeles, appeared on ABC's The View to elaborate on her experience.
According to Tweeden, Franken was the headliner on a post-9/11 entertainment tour of the Middle East she was participating in when he forced her to include a kissing scene in a sketch they were scheduled to perform together, later forcing his tongue in her mouth during rehearsals. A photo from the same tour shows Franken posing beside a sleeping Tweeden, groping her breasts as he stares into the camera.
During her appearance on The View, Tweeden said the abuse didn't stop there — there were also "little petty things," like offhanded comments Franken would make on the back of the tour bus.
"I had to sit next to him during autograph lines, where the troops would come up and get autographs from the entertainers after the show, and when I was sat next to him, I would put my back to him because I just couldn't take it," Tweeden said. "I saw one instance [where] he had signed a photo for a troop, and he had drawn devil horns on the image of me."
Tweeden also addressed the apology Franken issued on Twitter shortly after her accusations went public on Thursday.
"I thought the first one was really quick and sounded like a staffer did it," she said. "They responded to it; we reached out for comment. They probably got a lot of push back from that, which may have been why a second one was issued."
Tweeden read aloud a private apology from Franken in which the senator wrote he was "ashamed" his actions had resulted in trauma and unfortunate memories from her time in the USO.
"I don't know what was in my head when I took that picture, but it doesn't matter. There's no excuse and I understand why you could feel violated by that photo," Tweeden read aloud, quoting Franken's note.
"But look, I accept both apologies," she told The View panelists. "I'm not calling for his resignation, nor am I calling for his career to end. I just want to shine a light and stand on the shoulders of these other women to say, 'This is not right, and this is not what should be happening in our society.'"