Transgender artists of color speak on reclaiming their resilience in powerful art project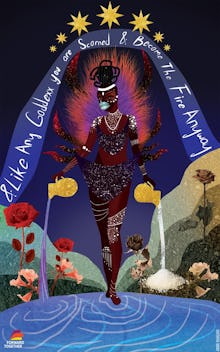 Monday marks Transgender Day of Remembrance, an annual awareness day to remember the individuals killed by anti-transgender violence and discrimination. In 1999, writer Gwendolyn Ann Smith created the day to honor Rita Hester, a black transgender woman who was stabbed to death in Boston in 1998. Hester was a beloved community transgender education activist.
Now, black and Latina transgender women are disproportionately targeted by violence. As of Nov. 5, at least 25 transgender people have been killed this year, according to the Human Rights Campaign. More than half are women of color.
Although it is important to remember those who have been killed, transgender activists also find it equally important to create a space for transgender people to celebrate the living and their contributions to society.
Through the Trans Day of Resilience art project, 10 transgender, gender-nonconforming and nonbinary visual artists and poets of color were paired up to create artwork and poems to shift the conversation from victimization to transgender power and resilience. The art project was initially brought forth by Forward Together and the Audre Lorde Project in 2014.
"We see a clear connection between the power of art to change hearts and minds and the visionary organizing happening right now all over led by trans folks," Forward Together artist-in-residence Micah Bazant said via a news release Monday.
Mic spoke with three participants from the Trans Day of Resilience project: Amir Khadar, 18, from Minneapolis; kiki nicole, 22, from Baltimore; and Niko Shahbazian from Seattle — about channeling their experiences into thought-provoking and liberating artwork.
"litany in which you are still here"
Listen to kiki nicole's poem here.
Khadar spoke on the symbolism of water and salt in the visual.
[The piece] is supposed to replicate the star tarot card. And the star tarot card is about balances and transitions. And we were talking about how as trans people our lives are built on transitions and balances and holding a lot of elements in balance in our lives. So we're talking about nurturing and destruction. Water is nurturing and beautiful and healing, and salt is the opposite of water. It dries things up and it stings. It burns.
So we were thinking about how our ancestors are out here and they're giving us retribution but at the same time, they can give other people pain and strife.
Kiki nicole discussed their thought process behind presenting their lived experiences in their poem:
I remember writing my first draft very late one night and on an iPhone note and sending that note to Amir and trying to envision a prosperous futurity for this black femme that I could see myself in. But also coupled with my last experience within the Bay. Remembering myself being close to a beauty supply store. Being close to a corner store. [Back to a time] when I felt like things were meant to last.
And taking those times to reorient myself with my surroundings, [a place] that felt very similar to Baltimore but was very far from Baltimore. Something that felt very meant for me even though this world is not meant for me. And wanting to orient myself...with [the questions]: 'What if this world was meant for you? What if you didn't have rage in your body or despair? What if you literally could feel inclined to hop out of your bed and then nourish yourself in this universe?
"In the Name Of"
Listen to Niko Shahbazian's poem here.
Shahbazian spoke on the significance of the piece's title and the power of names.
I wanted the title to invoke the harm in being named and being falsely represented through names and symbols. But also at the same time, I wanted it to be an indication of the positive aspects that come with being named and come with being materialized.
There is the harm and pain of being misgendered and being misrepresented and being put in these categories that are false. But there is also the beauty in having a name to call yourself, whether in my case is gender-fluid. But also "In the name of," is kind of a specific dedication to the name of trans folks that have been fighting. That might have been murdered. It's kind of a stand in for all of that pain and beauty.
In Laurel's artist statement, via the project's website, they wrote about how chose to create uplifting imagery to represent the youth he depicts in their illustration.
I sought to complement Niko's raw, beautiful prose with a piece where dreams and reality merged into one; I drew from the fantastical nature of reveries and childlike imagination to portray a scene of play between non-binary children of color. This year has been momentous for my work in that I have been granted opportunities to create uplifting imagery for minority groups. In continuing this pursuit, I used our surroundings as a mirror for what we aspire to be — for a youth, that might be a great equestrian; for another, a wild lion.
View the additional art projects on the Trans Day of Resilience website.