White House staff reportedly shows Trump positive polls to make him feel better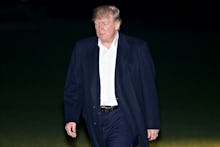 Though he has claimed they are "fake news," President Donald Trump is preoccupied with polls and is often shown positive numbers by aides in an effort to improve his mood, Politico reported Saturday.
According to Politico, "aides in the White House often show Trump polls designed to make him feel good," frequently showing him surveys that focus on his base.
They also reportedly show him polls from conservative-leaning groups that have more Trump-friendly results. One such group is Rasmussen, whose numbers he touted earlier this week as among "the most accurate."
"I think he's never really kind of gotten out of campaign mode and I thought he might," New Jersey Gov. Chris Christie, one of the president's advisers, told Politico. "I guess it's his judgment that that's what he has to do but that's surprised me a little bit."
While aides try to focus Trump on positive numbers from his base, the president himself keeps close tabs on his polling, according to the publication, privately fuming over negative reports.
And there have been a lot of them.
As Mic reported Friday, polls are suggesting Democrats may be poised for big wins in 2018 — and Gallup, which Trump apparently checks every day, has the president at a dismal 37% approval.
He has not hit 40% approval since September.
While he continues to enjoy the support of many Republicans, polling also suggests that enthusiasm among Trump's base is waning.
According to Politico, advisers like Jared Kushner — Trump's son-in-law — and chief of staff John Kelly urge the president not to believe outside polls. But, aides told the publication, the administration's internal polling is "delusional" and falsely positive.