This week in Trump-Russia news: There's a pattern of forgetfulness on Kremlin-linked contacts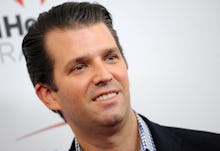 Donald Trump Jr. exchanged secret messages with WikiLeaks ahead of the presidential election in 2016 and seemingly acted on the organization's suggestions, emails he released on Twitter this week showed.
He dismissed the back-and-forth, saying he only had a "whopping 3 responses" to the group, but the previously undisclosed contacts are part of a pattern of forgetfulness among members of President Donald Trump's circle when it comes to their contacts with the Kremlin and, in the case of WikiLeaks, organizations seen as being aligned with Russia.
Here's what you need to know about the Trump Jr. developments and other news this week out of the ongoing Russia saga.
Trump Jr. apparently coordinated with WikiLeaks
The president's eldest son not only responded to WikiLeaks' Twitter messages — he and his father seemed to act on suggestions from the "non-state hostile intelligence service often abetted by state actors like Russia," as CIA Director Mike Pompeo has termed it.
On Oct. 12, 2016, for instance, WikiLeaks published leaked documents related to Democrat Hillary Clinton and urged Trump Jr. to have the campaign promote it.
About an hour after the private message, the Republican candidate did just that.
Trump Jr. also promoted the leak, pushing a link that had seemingly been provided by WikiLeaks.
Further, Trump Jr. notified other top campaign staffers — including Jared Kushner, Kellyanne Conway and Steve Bannon — of his contacts with the organization.
Trump Jr. has also faced scrutiny for a 2016 meeting with a Kremlin-connected lawyer he believed to have dirt on Clinton.
That infamous rendezvous — somehow — got even shadier this week when it was revealed that Russian-American lobbyist Rinat Akhmetshin and Ike Kaveladze, a former Trump business partner, apparently met for coffee in Moscow in June to go over details of the Trump Tower meeting.
Kushner caught in WikiLeaks controversy
The Trump Team's Russia-related amnesia also extended to Kushner this week, who was asked on Thursday to provide missing documents on a "backdoor overture" from the Kremlin, WikiLeaks and former national security adviser Michael Flynn.
In a letter to Kushner's attorney, the Senate Judiciary Committee requested information the president's son-in-law and senior adviser did not disclose in an October request.
"We appreciate your voluntary cooperation with the Committee's investigation, but the production appears to have been incomplete," Sens. Chuck Grassley (R-Iowa) and Dianne Feinstein (D-Calif.) wrote Thursday.
Grasslely and Feinstein gave Kushner until Nov. 27 to comply with their request.
Kushner has repeatedly failed to disclose contacts with foreign officials, including Russians, leading to scrutiny over his top-level security clearance.
It was recently discovered that one of his associates had invested in Facebook and Twitter via Russian state-controlled institutions with close ties to Russian President Vladimir Putin.
Sessions "now recall[s]" Papadopoulos meeting
While Kushner and Trump Jr.'s memories continued to fail them, things are starting to come back to Attorney General Jeff Sessions.
In a testimony before the House Judiciary Committee Tuesday, he said he now remembers attending a March 2016 meeting with George Papadopoulos, the former foreign policy adviser who pled guilty in October to lying to the FBI about his Russian contacts during the campaign.
"I do now recall the March 2016 meeting at Trump Hotel that Mr. Papadopoulos attended, but I have no clear recollection of the details of what he said during that meeting," Sessions told the panel. "After reading his account, and to the best of my recollection, I believe that I wanted to make clear to him that he was not authorized to represent the campaign with the Russian government, or any other foreign government for that matter."
Papadopoulos made numerous attempts to build a relationship between the campaign and the Kremlin and attempted during a national security meeting to set up a rendezvous with Trump and Putin, according to documents unsealed by special counsel Robert Mueller in October.
While Trump "listened with interest" to the foreign policy adviser's offer, Sessions reportedly railed against it.
Sessions' testimony Tuesday was lengthy and at times contentious.
One particularly heated line of questioning came from Rep. Ted Lieu (D-Calif.), a frequent critic of the administration, who accused Sessions of "lying" over inconsistencies in his previous interviews on Capitol Hill.
"If it was just one statement he made, I maybe could attribute it to a faulty memory," Lieu said in a phone interview. "But we now have a pattern, not just among him, but among other Trump officials."
"Either ... everybody happened to have bad memories on Russia, or something really bad happened," the congressman added.
Walls keep closing in on Flynn
A Turkish-Iranian businessman may be feeding Mueller information on Michael Flynn — Trump's embattled former national security adviser.
According to reports, Mueller is looking at the possibility that Flynn worked with the Turkish government in an effort to free Reza Zarrab, who is connected to Turkish strongman Recep Tayyip Erdogan and was indicted in 2015 for allegedly skirting United States sanctions on Turkey.
Zarrab was released from custody this month, according to the Daily Beast, in an apparent sign that he may be cooperating with the special counsel.
If that's the case, it's more bad news for the retired general — one of the most vulnerable targets of the FBI's probe.
Mueller reportedly has enough already to bring charges against him, and his son — Michael Flynn Jr. — may also be facing legal challenges.
Russia paid embassies to "finance election campaign"
The Russian Foreign Ministry sent close to $30,000 to its embassy in Washington, D.C., in 2016 to "finance election campaign of 2016," according to a Buzzfeed report Tuesday.
It's not clear what the cash was used for, but it was provided by the state-owned VTB Bank.
The wire transfer with the cryptic election reference — one of dozens of such cash drops to embassies across the globe — is now being examined by the FBI as part of its investigation into the Kremlin's meddling in the 2016 election.
Sanders: Trump "believed Putin believed what he said"
The White House doubled down on Trump's bizarre game of semantics, reiterating the president's claim that he didn't personally believe Putin's election meddling denial — he just believed that he believed it.
"He actually said he believed that Putin believed what he said, and that he wasn't going to get into an argument with him over that when they had bigger things, like North Korea, like the issues in Syria that they needed to deal with and work together on," press secretary Sarah Huckabee Sanders told reporters Thursday.
Trump got himself in hot water a few days earlier when he suggested to reporters aboard Air Force One that he trusted Putin when he denied interfering in the 2016 presidential election and called former U.S. intelligence leaders "political hacks."
He later walked back his statement, claiming that his comments were misinterpreted.
"I believe he believes that, and that's very important for somebody to believe," Trump said. "I believe that he feels that he and Russia did not meddle in the election. As to whether I believe it or not, I'm with our agencies."
On Thursday, Sanders was also asked if Trump believes Putin "would ever lie to his face."
She declined to respond, saying instead that the president is focused on fostering a stronger relationship between Washington and Moscow.
"He doesn't think that it's helpful for him to get into a back-and-forth argument with Vladimir Putin," Sanders said. "But he does think that there are places where we can work with Russia."