Republican governors meet in Austin to try and solve their Trump problem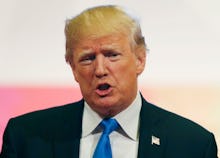 Republican governors have a Donald Trump problem.
Worried that Ed Gillespie's gubernatorial loss in Virginia this month could be a harbinger for what's to come in 2018, they gathered this week in Austin, Texas, to try to come up with solutions.
According to the New York Times, GOP governors from across the country tried to figure out how to distance themselves from Donald Trump ahead of their coming campaigns — and how to keep the unpopular president's activities from souring voters on their party in their states.
"I do think Virginia was a wake-up call," Tennessee Gov. Bill Haslam told the Times. "There's a pretty strong message there. When Republicans lose white married women, that's a strong message."
Gillespie was defeated by Ralph Northam in Virginia earlier this month in a wave of Democratic victories that were widely seen as a referendum on Trump.
Wanting to avoid Gillespie's fate, many Republican governors facing election next year do not seem to want Trump to stump for them on the campaign trail.
Trump losing political influence
Not everyone is down on the president — for instance, he hasn't lost Maine Gov. Paul LePage, who told the Times that Republicans should "respect our leader."
But the broader concern among Republican governors that Trump is poisoning the brand is yet another sign of the president's decaying political clout.
In September, he endorsed and campaigned for Sen. Luther Strange (R-Ala.) in the Republican primary for Attorney General Jeff Sessions' former Senate seat. But Strange lost to way-right Roy Moore, who is now facing disturbing child molestation allegations, and Trump has deleted his tweets promoting the establishment choice.
Then, in November, Trump talked up Gillespie, telling Virginia voters that he will "never let you down!"
But when Gillespie didn't win, Trump tried to distance himself from the defeated Republican, tweeting that he "did not embrace me or what I stand for."
But some Republicans seem concerned that Gillespie was defeated not because he didn't embrace Trump. They're worried that he lost because he did.
"We've got to run some more effective campaigns that aren't quite as negative and divisive," Maryland Gov. Larry Hogan told the Times.
Trump's approval rating has not hit 40% since September, and polls suggest that his supporters' enthusiasm is beginning to wane.
With Trump's stink on them, Republicans may be on the precipice of big electoral losses in next year's midterm elections, according to some analysts.
But in Austin Wednesday, Vice President Mike Pence — the former governor of Indiana — suggested to his former Republican colleagues that they should stick with Trump.
"Just look at the policies that they've been able to pass and advance because of your support," Pence said in Texas. "We're going to make America prosperous again, we're going to have the ability to make America safe again and to borrow a phrase, we're going to make America great again."